Alumni
A Mentorship to Last a Lifetime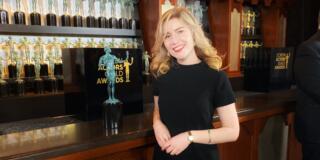 Iris Bradstreet JD'15, a first-time mentor in the School of Law Alumni Mentor Program, sat down to tell us about her experience mentoring not one, but three students in USF's School of Law. Supporting them with academic, professional, and personal advice, Bradstreet successfully concluded the first half of the program and has made a meaningful impact on her mentees. "I'm treating this as a lifelong relationship," says Bradstreet, who plans to maintain her connections long after the program's conclusion in April. 
Bradstreet began her career in theatre and worked with friends to help run a theatre company in San Francisco. She discovered a great passion for the work but eventually found the desire to move to the next step in her career and Bradstreet found her way to the Hilltop. 
"Getting a law degree is certainly empowering," Bradstreet says. Her law school journey led her to a career with an entertainment union, which she has realized is what she loves doing most. Based in Los Angeles, Bradstreet represents, helps, and protects a wide range of performers while meeting regularly with her three mentees over zoom.
"I enjoy working with students in any capacity," Bradstreet says. 
Bradstreet remembers what it was like to be in the shoes of her mentees. More importantly, she remembers that she'd wished she had taken advantage of resources offered, such as mentorship, during her own time at USF. Inspired to give back to eager minds, Bradstreet gladly joined the Alumni Mentor Program. 
Bradstreet enjoys being able to empathize with her mentees and letting them know that she's present, she hears them, and most importantly she understands what they're going through. 
"They have been very upfront with how they want me to assist them, and I think that's great," Bradstreet relayed. This aspect of the mentorship program creates a great sense of flexibility and allows her to evolve with her mentees as they progress through law school. "They're all on different timelines, which doesn't mean one doesn't need a mentor-mentee relationship, just that they'll all need something different."
Each mentee relationship is different for Bradstreet as each student comes from a different experience, perspective, and educational pursuit. One thing that remains consistent is their need for guidance as they work to navigate school, internships, and planning for their future.  
The Alumni Mentor Program lives on the NetworkUSF platform and runs annually from the Fall through the end of the Spring semester. NetworkUSF is an exclusive career networking platform where students and alumni can connect on shared interests, build community, and stay engaged with USF through opportunities like the Alumni Mentor Program.
Create an account, update your profile, and join us on NetworkUSF »