Faculty & Staff Achievements
USF Professor Wins Guggenheim Fellowship
Rhetoric and language professor awarded for poetry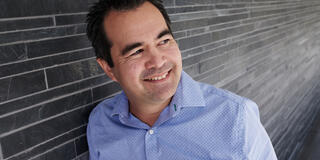 Brian Komei Dempster, professor of rhetoric and language and director of administration for the Asia Pacific Studies program, has been recognized as a 2023 Guggenheim fellow for his poetry.
This year, the Guggenheim Foundation honored 171 scientists, artists, scholars, and writers from 48 fields. More than 2,500 people applied for the fellowships.
Dempster is the third USF faculty member in four years to receive the honor, and the second to receive it for poetry. Professor Dean Rader of the English department was a 2019 Guggenheim poetry fellow, and Professor Susan Steinberg, also of the English department, received the award in 2020 for fiction.  
"Since I started teaching for the rhetoric and language department at USF over 20 years ago, I have balanced teaching with artistic and research pursuits," Dempster said.
He completed two books of poetry, Topaz in 2013 and Seize in 2020, and edited two anthologies on the Japanese American wartime and post-war resettlement experience. "That work formed the basis of the Guggenheim fellowship application," he said.
The fellowship will afford Dempster the time to complete his third collection of poetry, currently titled Dust and Rain. He describes it as "a standalone collection with distinct content and, at the same time, the final part of a poetic trilogy that extends themes from Topaz and Seize."
He credits the culture at USF with allowing him to work as both a teacher and an artist. "At USF, my teaching and writing practices are inseparable from one another. In the classroom, I hope to translate what I have learned as a poet and writer into useful tools for my students. I encourage them to pay close attention to craft, technique, and rhetorical approaches, and to embrace the process of revision and feedback as vehicles to improve their writing."