Campus Life
U.S. News & World Report: USF Among Top Graduate Schools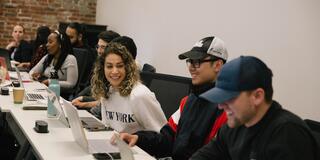 USF graduate programs remain among the best in the nation, according to new rankings from U.S. News & World Report.
In the 2023-2024 rankings published today, USF rates highly across its graduate programs in business, education, and nursing and health professions (law rankings will be announced at a later date).

In the finance category, USF moved up seven spots to 27th. In management, USF moved up four spots to 22nd. And in nursing, USF jumped 11 spots to 38th in the nation.
"I am proud of the excellent education our graduate programs provide in business, education, nursing, law, and many other fields," said Chinyere Oparah, provost and vice president of academic affairs. "Our programs prepare students to succeed in their careers and to practice with a level of compassion, care for others, and a commitment to justice that the world really needs right now."