Passion for Justice
Wrongfully Convicted Man Now Free, Thanks to Law Professors and Students
This is the third exoneration in two years for USF's Racial Justice Clinic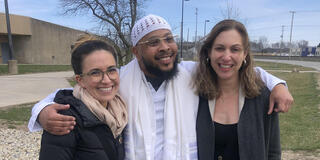 Leon Benson spent more than half his life — 25 years — in an Indiana state prison. Eleven years in solitary confinement.
Benson's first-degree murder conviction was thrown out last week by Marion County Superior Court Judge Shatrese M. Flowers after a joint re-investigation by the University of San Francisco School of Law Racial Justice Clinic and the Conviction Integrity Unit of the Marion County (Ind.) Prosecutor's Office revealed that evidence buried in the police file by the lead detective pointed to another man as the murderer.
"It was clear months ago that Leon Benson was factually innocent," said Lara Bazelon, director of the Racial Justice Clinic and a professor of law at USF. "But because the legal process is very slow it took another seven months to exonerate him. The wait was agonizing for everyone, especially Leon's family. Leon was patient and calm throughout. He was always convinced that he would get justice."
The investigation by Benson's defense team, led by Bazelon and Assistant Professor Charlie Nelson Keever, a group of USF law students, and the county conviction integrity unit, revealed that conflicting testimony and buried evidence identified someone else in the 1998 execution-style shooting death of Kasey Schoen in Indianapolis.
This is the third exoneration in two years for the students and professors working in USF's Racial Justice Clinic. In March 2021, Yutico Briley was freed after being wrongfully convicted of armed robbery in New Orleans and being sentenced to 60 years in prison. He served eight years.
In April 2022, the Racial Justice Clinic team helped free Joaquin Ciria 30 years after he was convicted of a San Francisco murder he did not commit.
Roxann Matthews JD '22 worked on Benson's case while she was a third-year law student and continued through the summer after she graduated, doing legal research, drafting briefs, and investigating and interviewing people of interest. Last spring break, she joined Bazelon, Keever, and another student in Indiana.
"We accomplished an incredible amount in the five days we spent on the ground, interviewing people, walking the scene, and talking through the case night and day," Matthews said.
She also interviewed Benson and helped prep him for his initial interview with the district attorney. "Every time I spoke with him, I was struck by Leon's integrity, warmth, and grounded-ness. Of course, all of those experiences pale compared to the moment I learned he was getting out –– finally," Matthews  said.
The Racial Justice Clinic took on Benson's case in July 2021 because it had "all the hallmarks of a wrongful conviction," Bazelon said. "The victim was white, the suspect was Black, no murder weapon was recovered, and no physical or forensic evidence connected Leon to the murder."
Most troubling, Bazelon said, was that the case hinged on an identification of Benson made by a white stranger who was more than 150 feet away from the murder scene and in fear for her life.
Bazelon and Keever took a red-eye flight to Indiana to be there when Benson was freed.
Dressed all in white, his arms raised, he emerged to loud cheers from his family, attorneys, and friends who had gathered outside in the cold to welcome him, Bazelon said. 
"Truth never dies," Benson said. "It is only rediscovered."