Passion for Justice
Justice at Work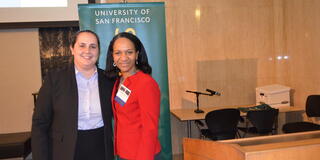 Practitioners, academics, and alumni from legal and non-legal backgrounds came together last month for the 2020 Law Review Symposium, Access to Justice in the Contemporary Workplace.
Three panels of distinguished speakers discussed topics such as achieving justice outside the courthouse; policies and practices that can restrict an employee's access to the legal system; and finding justice through diversity and inclusion programs. The keynote speech by Commissioner Charlotte A. Burrows of the U.S. Equal Employment Opportunity ("EEOC"), addressed the barriers that marginalized workers experience in achieving equality in the workplace and how EEOC works to combat these injustices.
In her address, Burrows emphasized that "the problems of discrimination, harassment, and retaliation have not disappeared" since the EEOC began its mission of promoting equity in the workplace in 1965. The EEOC focuses much of its attention on helping marginalized workers access legal support when issues of discrimination or harassment occur. The high cost of legal fees is a barrier that prohibits many workers from combating workplace violations, so the EEOC "provides the weight of the federal government and the very best employment lawyers who specialize" in these kinds of cases, free of charge to clients.
Some of the priorities that guide the work of Burrows and others at the EEOC include preventing sexual harassment in the workplace, protecting vulnerable workers such as low-income and immigrant communities, and ensuring equal pay protections for all workers. Through their work providing legal representation, EEOC has been able to recover approximately $70 million for victims of sexual harassment during the 2018 fiscal year, which rose from $47.5 million in the previous fiscal year.
Sophia Terrassi '20, editor of the Symposium, also emphasized the role that future generations have in addressing labor inequalities. "We are still a long way from achieving workplace equality for all communities," Terrassi said. "Commissioner Burrows and organizations like the EEOC have been integral in the fight for equality. As law students on the brink of launching legal careers, it is important for us to learn from these organizations who are on the cutting edge of legal issues."