Engaged Learning
Introducing the Center for Contemplative Law and Ethics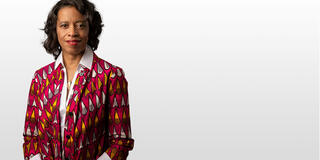 As a young lawyer feeling the stress of competing client and senior attorneys' demands, Professor Rhonda Magee recalls getting calls on a Thursday night with new deadlines that would upend her weekend. Add the fact she was one of only a handful of women and the only Black lawyer in the law office, plus the demands of a relationship.
In this storm's eye, Magee found mindfulness essential in prioritizing obligations, acknowledging when to demand more time or seek assistance. The meditative practice, which she continues twice-daily, helped her optimize legal knowledge and professional training with "self-mastery and groundedness, and my own power to influence the quality of my experience and relationships with colleagues and clients."
As the director of USF's new Center for Contemplative Law and Ethics, Professor Rhonda Magee hopes to shift perceptions of mindfulness to underscore the ethics at its core. A full-time professor at USF Law for 24 years teaching courses from racial justice to contemplative lawyering, Magee says mindfulness was a novel concept when she arrived on campus. The idea "is often presented as a personal spa-like practice to calm the mind." The relevance of pausing, taking time to deepen plans of action, can be countercultural amidst pressures of quick action in an adversarial mode. "Some may see contemplative values of compassion and empathy as antithetical to a certain kind of lawyering that draws its energy from anger." Magee sees synergy in how Jesuit values can "create aligned opportunities to deepen what has been traditionally missing" from the curriculum of law. She was instrumental in embedding "socially-engaged mindfulness" in students' orientation courses, and she plans to expand such offerings, including weekly drop-in meditation sessions to help with stress management.
"By offering opportunities to explore and develop research-aligned mindfulness practices, we provide our students with means to strengthen and deepen their awareness of the relevant knowledge, skills and values of law practice, and the clarity to apply them with cognitive flexibility, emotional agility, and dignitary concern in the midst of conflict and even crisis," says Magee. She sees these capabilities as essential to sustaining lawyers' commitments, and increasing access to justice for vulnerable persons.
Her 2019 book, "The Inner Work of Racial Justice," describes her journey from a childhood in a racially-segregated subsidized housing community in 1960s North Carolina to a nationally sought speaker on mindfulness – e.g. last month she lectured at Harvard Medical School on mindfulness and ethics in cultivating just communities and practices. Magee was inspired by her mother and grandmother's resilience despite adversity to live with a sense of purpose, dignity and generosity. Mindfulness teachings helped "tame and clarify my own often-troubled mind," she writes. "They opened me to the possibility that we can transform the world."
Magee's impact is appreciated among the USF Law community. Alumna Marisa Rodriguez '08 first encountered mindfulness in a professional context as a student in Magee's class on Tort law. While in the San Francisco District Attorney's Office, then later with the San Francisco city administration, Rodriguez invited Magee to help facilitate productive conversations amid emotionally sensitive situations, as in 2016 when several San Francisco Police Department officers were accused of exchanging racist, homophobic texts, then later as city agencies were asked by Mayor London Breed to develop racial equity plans.  "She was phenomenal," Rodriguez recalls. In both instances, Magee set the stage for peaceful discussions. In one session, she created a "healing circle" in a large room where participants engaged without a table separating them, and paused for a moment of meditation, appreciation, and gratitude so each person could share unique life experiences and expertise. "What a privilege to come together in this respectful space; it changes the trajectory of dialogue," Rodriguez explains. "Who knew something as metaphysical as mindfulness can bring so much to a process."