Faculty & Staff Achievements
Grit and a Strict Regimen: Judge Stephen Murphy '81 Pens Third Novel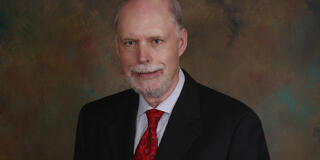 The Hon. Stephen Murphy '81 has spent nearly every Thursday night for more than thirty years at a local cafe in the Richmond District.
Murphy, a former plaintiff's employment attorney, now a judge on the San Francisco Superior Court since 2017, moonlights as the author of a series of legal thriller novels. It's been because of a strict regimen – four hours weekly at Simple Pleasures Cafe on Balboa Street, since 1989 – that Murphy's third novel in the series, Abiding Conviction, is set to be released in hardcover July 5.
"This one is extra special to me," Murphy says. "I feel a measure of satisfaction that I finally get a hardback. It's a goal I've had."
Partly inspired by the novel Gone Girl, Murphy's new novel has the fictional attorney and series protagonist Dutch Francis defending a judge accused of killing his wife, during which Francis's own wife gets kidnapped. The series, which details Francis's transition from a corporate lawyer in Boston to handling criminal cases in Manchester, New Hampshire, has served as a nice "what if" scenario for Murphy, who practiced as a civil attorney for entire career.
"It was kind of fun to see how a civil lawyer would go through the procedure of a criminal trial," Murphy says.
An Interest in Writing
After graduating from USF Law, Murphy worked for several years with Bianco, Brandi, & Jones, a partnership of USF alumni that originally focused on personal injury and gradually transitioned into employment law. In 1999, Murphy started his own firm in employment law and was named Trial Lawyer of the Year in 2008 by the San Francisco Trial Lawyers Association and a Top 100 Lawyer in Northern California by SuperLawyers.
"I enjoyed representing people who were at a low point in their lives, who needed help," Murphy said. "Either they had just been fired, or they were discriminated against or harassed. I went into law to help people, and that was a perfect fit."
In the midst of this work, Murphy began conducting interviews with lawyer-authors and publishing them in a legal magazine in the late 1980s. After speaking with several authors, he began to think he could write his own novel and created a program for himself. Although it wasn't until 2005 that he released his first novel, Alibi, he said the process of writing itself impacted his legal career.
"When you're a trial lawyer, you've got to learn how to tell a story," Murphy says. "You think about the same things writers think about in terms of venue, characters, plot, resolution, conflict. I remember giving opening statements in cases where I would try to incorporate storytelling techniques – pulling back some information until the right time to reveal it, for example."
For other lawyers who are considering writing books, he said it is an achievable goal if they set aside regular time to do it.
"If you don't do that, it'll never get written," Murphy says. "One thing I do have is perseverance. When I start something, I like to finish it."
Doris Cheng '98, Murphy's friend and co-director of USF's Intensive Advocacy Program, says the qualities that made Murphy succeed in law – seeing the world "through a special lens of compassion and wisdom" – have bled over into his writing career.
"He has an incredibly sharp mind that constantly examines the meaning of life and our place in it," Cheng says. "He embodies a quiet confidence that makes people feel heard, and he knows how to represent people's stories."
Thrown into the Fire
Murphy, who also serves on USF Law's Board of Counselors, has been working on criminal cases on the bench, which he describes as a big change from his civil career.
"You get thrown into the fire, and you have to pick it up pretty quickly, so that's been extremely challenging," he said, adding that it has been a great experience serving on the court.
In some ways, he says becoming a judge in criminal cases has made writing harder, and he's found he now knows too much.
"I try to make my books realistic and accurate, but sometimes that gets in the way of telling a story."