Engaged Learning
Finding Her Own Way
Allie Ferraro '23 traveled to Prague for a human rights law externship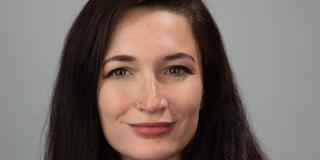 Thanks in large part to her own tenacity, Allie Ferraro '23 traveled to Prague this past summer for an externship in human rights law.
Ferraro, who wants to work in human rights policy after graduation and has long been interested in living in Europe, spent six weeks working with the humanitarian organization People in Need through USF Law's International Externship Program.
Ferraro called the experience "eye-opening" and said "Every USF Law student who's considering working or studying abroad should absolutely do it."
Prof. Jack Garvey, faculty supervisor for USF's Prague program, praised Ferraro as "a perfect fit for the program, both in her interests and skill set."
"Most remarkable was her persistence in negotiating the many challenges presented by the pandemic, including governmental bureaucracy, that would have prevented someone of lesser commitment from achieving the full foreign externship experience," Garvey said.
The externship was supposed to take place online due to the COVID-19 pandemic, but Ferraro lobbied to do it in person. While the Czech Republic was initially closed to travel from the U.S., she monitored and translated government websites, and eventually discovered that the country would re-open to travelers just days before her externship would begin.
It ended up being one of the best experiences of her life, Ferraro says.
In her work with People in Need, Ferraro helped develop compliance measures to ensure that the humanitarian organization didn't run afoul of federal government grant rules. In addition, she conducted research on USAID contract interpretation, OFAC compliance measures, and conducted anti-terrorism screenings.
"It was clear USF has a longstanding relationship with this organization," she said. "I felt like people there cared about me and respected me for coming from USF.  It was incredible."
Ferraro, who has also spent time doing work in Kyrgyzstan and Nepal with Habitat for Humanity's Global Village Program, said she gets her desire to go into international human rights law from a philosophy her grandparents taught her.
"I've been lucky enough to be able to go to college," she said. "I've been lucky enough to have a roof over my head, and I feel like if I'm not doing what I can to help spread that to other people then I'm not living my life to the fullest."