Passion for Justice
Faculty Spotlight: Professor Jacque Wilson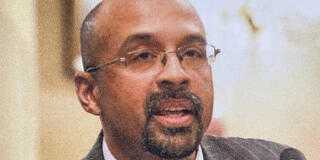 Jacque Wilson, a senior trial lawyer with the San Francisco Public Defender's Office, has been working collaboratively with USF Law's Racial Justice and Criminal and Juvenile Justice Clinics for years.
The clinics immerse students in the work of public defenders as they represent clients affected by racial discrimination, those facing misdemeanor charges, as well as youthful offender parole candidates.
Wilson, who is an adjunct professor at USF School of Law, was instrumental in reforming California murder laws by significantly narrowing the felony murder rule and has helped many unjustly accused and sentenced individuals gain their freedom; among them, his brother Neko.
We recently spoke with Wilson about his work with the clinics, the injustice of mass incarceration, and the time he spent working on his brother's case.
Tell us about the work USF Law students undertake in the clinics?
We tackle issues that are at the forefront of the conversation: ending cash bail, the new felony murder rule, post conviction work, or in our pre-trial release unit. We look at these from a global perspective, and then we also look from a local perspective, and say: What can we do to have better outcomes?
On a typical day, the work varies depending on the issue we are tackling. Let's look at the cash bail issue. We know that a lot of our public defender clients are people of color, they're indigent, and a lot of them have mental health and substance abuse issues. So the typical day for a student in the clinic would be to interview the client, and then based upon the information they gather from the client, they would potentially contact family members, employers, religious leaders, and get letters of recommendation and references from them. And then ultimately, they would write a bail motion and even potentially argue that motion.
What do you hope every semester the students take away from their time in the clinics?
I hope they're a hammer against the massive weapon of mass incarceration. I hope they realize that that system has never worked, that it's the modern-day slavery system, and that we need to abolish it. It incarcerates poor people, people of color, the mentally ill. It is a huge waste of resources. So anything that I can do to point any student in that direction, then I believe I've done my job.
What does it take to get the students to see the system in that way?
It's throwing them into the fire and having them work on real cases. In our Pre-Trial Release Unit, they're doing work that public defenders and DAs throughout the state are not doing. When you see a person who has just recently been arrested, and all they have is you to help him or her navigate their way out of this hellhole — this slavery system — and they've got to rely on you, that's powerful. For the first time, people start realizing that they can set people free.
Students who look to get into public defense are surely going to run into huge systemic roadblocks when trying to advocate on behalf of their clients. You worked for years to get your brother out of prison when he was accused of a murder he didn't commit. How did you move past the roadblocks you faced in defending your brother, and is there any lesson from your experience that you can apply to what future public defenders might face?
You just have to have confidence. You would never know the dark hours, you would never experience those the way I did. And nor would I wish that on my worst enemy. What I've learned from all of that, however, is that in the end you can triumph.
For the average person, what they have to realize is if you're going to do this work as a public defender, if you're going to stand up against criminal injustice, you're going to face way, way, more obstacles than you do stepping stones. But it's those stepping stones that take you to the next level. And so you just have to find the positive in the negative. And as long as there is life, there is hope. As long as I could breathe, there was hope. And I knew that we would bring my brother home before trial, during trial or after trial. So for the average person it's believing in yourself, taking action, never giving up and always visualizing the dream that you have.
This interview has been edited for length and clarity.