Faculty & Staff Achievements
Decades of Dedication
Jack Garvey Retires, Leaves a Legacy of Learning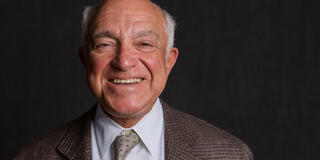 "The greatest satisfaction in my 40-plus years of teaching is having been a member of the USF community," said School of Law Professor Jack Garvey.
Garvey's career has been a range of projects, he said. It includes decades of service as arbitrator with the American Arbitration Association; litigation of Garvey vs. State Farm at the California Supreme Court to change the U.S. residential insurance industry; work to integrate refugee relief with the Middle East peace process; and an assignment by the U.S. Department of State to work in Croatia to develop legal frameworks for managing the European refugee crisis.
Garvey also has helped change USF for the better. He created the School of Law's first externship program in Rio de Janeiro, Brazil, and then used it as a model for programs in the Czech Republic, Vietnam, Indonesia, China, and India. "If you want to change the world, learn from traveling the world," he said.
Before he joined USF, Garvey was a U.S. Senate staff speechwriter for Sen. George McGovern, the Democratic Party's candidate for president. Garvey started his work in international law as assistant to Prof. Abram Chayes of Harvard, John F. Kennedy's legal adviser to the State Department, with whom he developed the legal materials that became Garvey's USF course in public international law.
In his time at USF, Garvey has been all over the map, literally. He served as fellow of the Graduate Institute of International Studies in Geneva, Switzerland; Parker Fellow at the University of Sydney, Australia; Fulbright senior specialist at the University of the State of Rio de Janeiro and in Croatia; and visiting professor in France, Britain, Brazil, Indonesia, Argentina, Ireland, India, the Philippines, Australia,
and China.
Just as Garvey has worked around the world, his work has been published around the world, in journals such as the Yale Law Journal, the Oxford Journal of Conflict and Security Law, and the American Journal of International Law. His book, Nuclear Weapons Counterproliferation: A New Grand Bargain, published by Oxford University Press in 2013, is studied in the field of legal containment of weapons of mass destruction.
"Jack Garvey has elevated our school from the very beginning of his teaching career," said Dean Susan Freiwald. "He has been a driving force in the internationalization of the law school and in the maintenance of rigorous standards of excellence."
Garvey said that through it all he has been grateful to USF. "There was no better place to enjoy professional freedom and the opportunity to make an impact. On a personal level, USF was always supportive. Professionally, the USF administration, my faculty colleagues, and my students consistently engaged me truly in USF's Jesuit mission of changing the world from here."