Passion for Justice
Assisting Asylum Seekers and Preventing Family Separation
Originally published in the AJCU October 2019 issue of Connections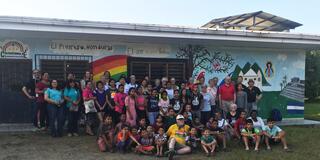 "What are the Sharpies for?" my student Cristina asked Luis, the volunteer coordinator at Al Otro Lado, as he handed us materials for use at the El Chapparal border crossing in Tijuana, Mexico. Luis replied, "You must explain to every parent with a child that the Border Patrol might separate them from each other. The Sharpie is for writing the parent's name and cell number on the child's arm or chest in case of separation."
Earlier this year, the University of San Francisco's (USF) Immigration and Deportation Defense Clinic's staff and students spent five days volunteering in Tijuana, making presentations on asylum law and procedure, and advising dozens of so-called "Caravan" members who were huddled at the United States/Mexico border after fleeing the violence that pervades the Northern Triangle of Central America. Through word of mouth, countless migrants have heard about these presentations and consultations at Al Otro Lado, a legal services organization serving indigent deportees, migrants and refugees in Tijuana, that relies almost exclusively on volunteers.
As a result of recent changes to the immigration process, counseling the migrants on how border patrol and asylum officers conduct "credible fear interviews" is critical: only after passing this screening test will a migrant be allowed to apply for asylum.
Most of our work was done at the offices of Al Otro Lado from 10 a.m. to 5 p.m., but our day started earlier at 7 a.m. at the El Chapparal, where migrants were told to report to see if their name and number had been called off of a waitlist that the U.S. Customs and Border Patrol had created with the help of Mexican officials. We reported there as well, but in spite of the best efforts of Al Otro Lado, most migrants had not received advice on what to expect when being interviewed by Border Patrol and asylum officials. We were there to give quick one-on-one consultations—and to offer Sharpies—to those whose names were called.
This work in Tijuana is just an example of a one-week assignment that our Immigration and Deportation Defense Clinic students experience during an average semester at USF Law. In other semesters, our students have worked for a week at the Immigration and Customs Enforcement family detention center in Dilley, Texas. This semester, we intend for our students to return to Tijuana or Nogales, along the Arizona border.
These one-week assignments are a break from the regular work that our Immigration and Deportation Defense Clinic students are typically engaged in. Each semester, we have six to eight students in this particular clinic, who are usually assigned to work with two clients under the guidance of the clinic's supervising attorney, Jacqueline Brown Scott. The vast majority of our clients are desperate, having fled gang, cartel or domestic violence.
The clients are primarily from Honduras, Guatemala and El Salvador, and more than half are unaccompanied minors who traveled to the United States without a parent. More than half of our clients also hail from rural parts of California, such as the Central Valley or Sonoma, places where we have intentionally dedicated our resources to serve under-served populations.
We apply for asylum for the family units (usually in the immigration court) because they were arrested by the Border Patrol when they first arrived. We also apply for asylum for unaccompanied minors, but minors get to apply at the asylum office first, rather than in the immigration court. For the minors, we also seek a separate relief—Special Immigration Juvenile Status—which requires a state court procedure.
The students at the clinic spend countless, patient hours with our clients, many of whom suffer from PTSD. They have helped many clients such as Alberto, a teenager from Guatemala, win asylum. Alberto's friend, Eddie, was attacked and beaten up badly for refusing to join the notorious 18th Street Gang. Afterward, Eddie hid at his mother's house and stopped playing soccer with Alberto because the gangsters were always at the field looking for him. His family reported this to the police and within two weeks, Eddie was shot and killed. Then the gang came after Alberto, threatening to kill him if he did not join, so he fled to the United States.
Relentless and ruthless gang intimidation is often what causes our clients to flee their home countries. Julia fled El Salvador after refusing to dance with a gang member at a community event. He wanted her to be a gang "girlfriend"; days later, the gang member drove his car right at Julia, knocking her unconscious and causing internal injuries and permanent damage to her right leg.
Although I was already engaged in pro bono cases with student assistance, the Immigration and Deportation Defense Clinic officially started in January 2015, soon after the surge of children and family units from Central America in Spring 2014. However, after a new administration came into the White House in January 2017, immigration enforcement intensified, and increased student interest in immigration law ensued.
In Fall 2017, we started an Immigration Policy Clinic, where eight to ten students are engaged in different types of cases and issues each semester. These include Board of Immigration Appeals cases on behalf of previously unrepresented detained clients, through a program coordinated by the Catholic Legal Immigration Network, and post-conviction criminal cases involving clients facing deportation, who need to go back into state court to modify guilty pleas to avert deportation. Working with pediatricians and child psychologists, Immigration Policy Clinic students have also developed an innovative presentation to the children of immigrants who fear that their parents might get deported. Through stories and examples, children are introduced to concepts of immigration law and enforcement.
At a time when migrants fleeing violence have been demonized, and threats of raids strike fear in immigrant communities, law students at USF provide a ready source of energy, determination and commitment to provide access to justice for the victims of anti-immigrant rhetoric and enforcement. They are ready to do much more than scribble the cell numbers of parents on migrant children who face separation from their parents at the border.
All photos courtesy of Bill Ong Hing.