Passion for Justice
The Fight for Equality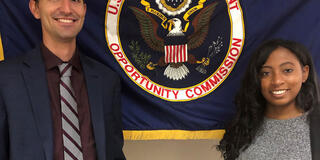 Imagine a summer internship where you fight in the trenches for workplace equality from day one.
This summer, the EEOC San Francisco and Oakland District Offices welcomed six USF School of Law students  — the most from any single university — to do just that, support its work for equality and gain hands-on experience in labor and employment law.
Leading cognitive interviews with survivors requires preparation, professionalism, and mental toughness, and from the beginning, Amara Blades '21 conducted interviews with respect and patience.
"USF gave me the building blocks to handle difficult situations," says Blades, who interviewed charging parties on sensitive topics, including sexual harassment. 
EEOC investigators and attorneys trust interns with every aspect of casework — a trust that breeds greater passion for the mission of the EEOC.
"The people who work at the EEOC are truly passionate about eradicating discrimination in the workplace and that type of energy is infectious," says Sophia Terrassi '20. "To work at an organization that affects change on both a micro and macro level nationwide is a unique experience."
From conducting intake interviews to drafting new complaints and assessing standards for employment discrimination, interns handle it all. Spencer Ladd '21 believes his USF coursework with its emphasis on both written and oral analytical skills prepared him well for the position.
"In addition to cold calling, many of my 1L professors encouraged us to discuss class topics. That coupled with my Legal Research, Writing, and Analysis (LRWA) assignments and moot court experience prepared me to deliver legal analysis to the public."
When it comes to summer internships, USF law students have many options, but the battle for workplace equality and practical work experience make the EEOC a fitting choice for some passionate lawyers-in-training.
"I always felt like I was a full-time member of the Enforcement Unit and not just an intern. I highly recommend this program for any student who is interested in labor and employment law," says Ladd.