Faculty & Staff Achievements
Professor Alice Kaswan Appointed Associate Dean for Faculty Scholarship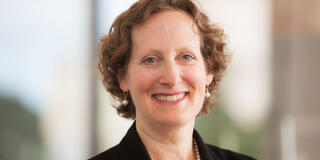 Professor Alice Kaswan is the School of Law's new associate dean for faculty scholarship. Kaswan succeeds Prof. Tristin Green, who served in that capacity for three years before transitioning into the role of associate dean for academic affairs.
The associate dean for faculty scholarship is focused on optimizing the impact of faculty scholarship while nurturing the law school's intellectual community. According to Dean Susan Freiwald: "Our long-held philosophy at USF School of Law is that scholarship enhances and fosters classroom teaching and learning". Dean Freiwald further shares that "Prof. Kaswan specifically brings to this role her commitment to scholarship that makes a difference, and a desire to bring more attention to the tremendous achievements of our faculty as scholars as well as teachers." 
Kaswan will work with faculty to maximize visibility and help relay their insights to relevant professional and policy circles. Kaswan's key initiatives include running a speaking series featuring USF faculty and invited speakers as well as organizing faculty writing retreats. Acting as a liaison with the University's scholar center, associate dean Kaswan will help build interdisciplinary connections within the larger USF community. 
Kaswan is an expert on climate change policy environmental justice and environmental federalism. She is an elected member of the American Law Institute and a past chair of the Association of American Law Schools' Environmental Law Section. As a member scholar and member of the board of directors of the Center for Progressive Reform, an organization of environmental law professors committed to effectuating policy reform, she leads CPR scholars' climate and energy work and seeks to translate their academic research into real-world change. 
A Dean's Circle Scholar, Kaswan is recognized for her commitment to academic research. She has authored numerous scholarly articles over the past twenty years, most recently in the University of Miami Law Review, San Diego Journal of Climate and Energy Law, and Columbia Journal of Environmental Law. She also writes policy papers and regularly blogs for the Center for Progressive Reform. 
"I am thrilled with the chance to work with USF's inspiring faculty," said Kaswan. "To a person, my colleagues are intent upon fulfilling USF's mission — changing the world from here — and I am eager to do what I can to help them have the impact their ideas deserve." 
"One of our goals is to enhance the connections between our scholarly work and the broader USF community: our students and alumni," she said. "We are planning to launch new centers that highlight our strengths, and that feature our faculty's scholarly work, speakers and other law school events, students' classes and externships, and select alumni."