Faculty & Staff Achievements
Learning from History
Professor Bill Ong Hing's New Book Examines Four Decades of Immigration Policy
Professor and Director of the Immigration and Deportation Defense Clinic Bill Ong Hing's new book, American Presidents, Deportations and Human Rights Violations: From Carter to Trump, is an in-depth look at how immigration enforcement has evolved throughout four decades of presidential administrations.
Image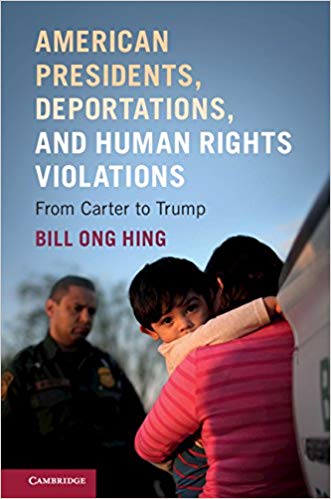 Published by Cambridge University Press, he questions the price the United States pays for harsh immigration policies, in terms of national values and the violation of human rights.
The USF Immigration and Deportation Defense Clinic, established by Hing in 2015, provides representation for unaccompanied immigrant women and children who have been transferred to Northern California and the Central Valley. With an average of 60 cases each year, USF law students have the opportunity to learn while enacting real life, positive change under the supervision of Hing and fellow USF law professor Jacqueline Brown Scott. The clinic has a nearly perfect record, with only one deportation of a client since 2015. Hing's insights on immigration are informed by his work at USF, extensive scholarly research, and his leadership roles in the field, including at the Immigrant Legal Resource Center and Asian American Justice Center. Here's what Hing had to say about his new book:
These immigration issues have been prevalent for decades. Why did you write this book now?
I started the book back in 2015 in reaction to the opening of family detention centers in New Mexico and then Texas by the Obama administration.
What about today's political climate makes a book like this so important?
The Trump administration's stepped-up immigration enforcement has created more fear in immigrant communities than I have ever witnessed. The administration has also attempted to use enforcement tools that seem extraordinary, such as the Muslim ban and the separation of migrant children from their parents at the border. The president represents extreme anti-immigrant views that are shared by some — I believe a minority — in the country that need to be confronted.
What do you hope readers take away from your book?
Although the Trump administration's immigration enforcement strategies are extreme in many ways, there have been similar strategies used by other administrations, and every time, those who believe in immigrant rights, human rights, and civil rights have had to stand up to those extreme tools. The same is true today.
What themes in your book do you see come up in your work with USF's Immigration and Deportation Defense Clinic
Everyday, our clinic represents children and women, and some men, who have been swept up by the inhumane immigration enforcement policies I write about in the book. Everyday, students in the clinic witness the effect of extreme immigration enforcement tools that break up families, wreak havoc in the psyche of noncitizens, detain innocent men, women, and children, and cause great pain in the hearts and minds of the clients.
Who will benefit from reading this book?
Policymakers and the general public. They need to know the effects of inhumane immigration enforcement strategies
What might readers be most surprised to learn from this book?
So much damage is being done in immigrant communities that goes unnoticed by the general public. While the Trump administration represents the extreme, much of what is being done is history repeating itself.