Engaged Learning
Leading the Law Review
Sonia Muscatine '19 balances ideas, personalities, and resources to produce three issues a year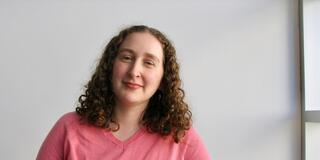 The University of San Francisco Law Review has been a student-run publication since 1966. This year's 53rd volume is lead by editor-in-chief Sonia Muscatine '19, a Bay Area native who earned her bachelor's from Bennington College in Vermont. She joined the Law Review in her second year and has worked her way up to editor-in-chief, overseeing three Law Review issues to date.
What made you want to get involved withLaw Review?
Law Review is an opportunity for students and practitioners to share their ideas and advocate for change. I thought this advocacy was particularly important to the identity of USF law school because of its mission of community involvement and public service.
What's your role, as the editor-in-chief, in producing Law Review?
I oversee the organization and business side of Law Review, and we publish three issues a year. Law Review has a lot of stakeholders — editors, staff members, students at large, faculty, administration, authors, etc. I manage those often-competing viewpoints to achieve the best outcome for Law Review. I also work very closely with the managing editor on the publication schedule and the executive editor on staffing needs. We have a great team where everyone shares resources and helps each other out. We all have a strong vision of our work and want to produce the best product possible.
How has your role as Law Review editor enhanced your legal education?
It is so much fun and very interesting to get to read so many great articles across a number of areas of law. I've learned a ton about subjects without taking a course. Being editor-in-chief of Law Review is great practical experience in personnel management, time management, organization, dealing with the unexpected, and working with all kinds of authors — students, faculty, practitioners, and judges — to get through the editing process and deliver something powerful.
Why did you choose USF?
My legal career started at ValueAct Capital, and I've been so lucky to have my employer support my career growth. l wanted to go to law school to take my career to the next level, and I wanted a local part-time program. I was attracted to USF's strong and collaborative community, flexible part-time program, strong academics, and beautiful campus. Working full-time and attending law school part-time is not easy, but the USF School of Law community has made it much less stressful than it might have been.
How do you plan to use your law degree post-grad?
After I graduate this December, I plan to continue my career at ValueAct Capital, an investment firm where I primarily work in securities law, corporations/business associations, and contracts. I'm in an interesting and exciting phase of my career at ValueAct Capital, and they've been encouraging and supportive while I have been in law school. I've always loved animals and plan to stay involved in animal welfare work as well on a pro bono basis. I'm excited to take the Animal Law course that's offered now at USF, and very proud that Law Review is publishing an article on animal cruelty and domestic violence authored by a USF School of Law professor emeritus.