Campus Life
Civil Rights Leader Dr. Clarence Jones Addresses Class of 2019 at Commencement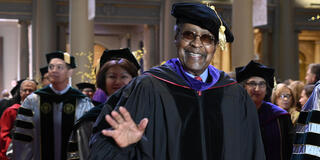 On May 17, the Class of 2019 celebrated graduation in St. Ignatius Church surrounded by hundreds of family and friends. Civil rights leader, and legal adviser to Dr. Martin Luther King Jr., Dr. Clarence B. Jones received an honorary degree and gave the commencement address. Dalton Bradbury '19 was selected by his classmates to speak.
119 students received JD degrees, alongside 22 master of legal studies in taxation, seven LLM in intellectual property and technology law, three LLM in taxation, and two LLM in international transactions and comparative law degree recipients.
Dr. Jones's rise in the civil rights movement began when he became part of Dr. King's legal defense team, at a time when Dr. King was fighting tax fraud charges by the State of Alabama. That launched Dr. Jones into his work with the Southern Christian Leadership Conference, and he became part of Dr. King's inner circle, serving as his lawyer, and helping draft his speeches, including his "I Have a Dream" speech at the March on Washington. In 1967, Dr. Jones joined the investment banking and brokerage firm Carter, Berlind & Weill, and became the first African American allied member of the New York Stock Exchange. Since then, he has had a rich and varied career in law, finance, journalism, entertainment, sports, and public service. He is now a critical diversity studies adjunct professor and director of the USF Institute for Nonviolence and Social Justice.
"I have faith that you can change our country and our world," Dr. Jones told the graduates. "I believe that you can redeem the soul of America. Indeed, I believe that you can be the leaders of a fourth American revolution for social justice and freedom in our country — a revolution to redeem the soul of America, to achieve the beloved community that Dr. King envisioned."
Interim Dean Susan Freiwald expressed her appreciation to the wide network of supporters who bolstered the graduates, including family members, law school faculty and administration, and fellow law students.
"From the many USF law alums I have gotten to know over the past decades, I know you will take those practices of being respectful, inquisitive, compassionate, inclusive, and non-judgmental with you when you leave," she said. "You are our future, and that brings me hope."
Student speaker Bradbury reminded his fellow graduates that "now, more than ever, is when the world needs good lawyers. And not just good lawyers — but USF lawyers."
"Lawyers that are humble, compassionate, intelligent, hard working, and above all, ethical," he said. "Individuals who are not afraid to roll up their sleeves and do the dirty work in the trenches of justice. Lawyers who understand pursuing justice in this day and age is not just an ideal, but a responsibility that falls upon us."
During the ceremony, the Academic Excellence Award was presented to Ernie Mejia '19 for his demonstrated superior academic achievement throughout his law school career and for his engagement in meaningful, scholarly research and writing. Alyssa Daatio '19 received the Pursuit of Justice Award, recognizing the graduating student who best exemplifies the law school's commitment to providing service to others.