Alumni
Batter Up
New York Yankees executive Jean Afterman '91 talks leadership, San Francisco style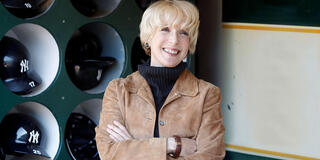 Jean Afterman '91, the assistant general manager of the New York Yankees, said that as a leader in a male dominated world, she is sometimes louder and more vocal than men.
She also makes very clear that she is an attorney.
"I have started conversations with, 'As a lawyer, I can advise you' as a means of level-setting and solidifying my position in a room full of men," said Afterman.
Afterman returned to the USF School of Law on August 21 for a conversation with Dean Susan Freiwald. One of only three women to hold the position in Major League Baseball, Afterman credits her USF School of Law education as a big part of her success.
"I approached my career with some recklessness initially, having many different jobs over 10 years prior to attending law school," she said. "But that variety of experience and a good education gives you opportunity and makes you a fully formed person."
The city of San Francisco also played a role in Afterman's life.
"San Francisco was and is a city on the leading edge and that pioneering aspect still exists. Growing up here I saw change all around me, lots of experimentation, and a forward-looking mentality. The character of the city makes it a great place to find out who you are."
Afterman serves on Major League Baseball's Diversity Pipeline program committee, which seeks to develop and expand the pool of qualified minority and female candidates for baseball operations positions.
She shared these parting words with USF law students in attendance: "Be prepared. Study for exams. And when you feel defeated, always remember it's a privilege to be here and for that you are extraordinary."