The Board of Trustees elected Paul J. Fitzgerald, S.J. as the 28th President of the University of San Francisco on April 8, 2014. He began his tenure on August 1, 2014.
Image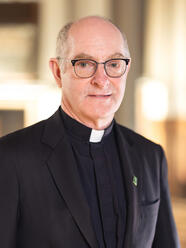 Born in Burbank, Calif., Fr. Fitzgerald earned a B.A. in History from Santa Clara University in 1980. Two years later he entered the Society of Jesus, beginning his religious formation at the Jesuit Novitiate in Montecito, California. After First Vows, he was sent to study Philosophy at the Jesuit-run Hochschule fuer Philosophie in Munich, Germany. He then returned to the United States to teach at Jesuit High School in Sacramento.
Fr. Fitzgerald earned the M.Div. degree in 1991 and a Pontifical Licentiate with an emphasis in Ecclesiology at Weston School of Theology, Cambridge MA in 1993. He attended the University of Paris - La Sorbonne, where he earned a D.E.A. (diplôme des études approfondies) and a Docteur ès Lettres (Ph.D.) in the Sociology of Religion. Concurrently he worked towards an S.T.D. (Pontifical Doctorate) in Ecclesiology from the Institut Catholique de Paris.
Fr. Fitzgerald is currently chair of the Association of Jesuit Colleges and Universities Board of Directors and serves on the Board of Trustees of Seattle University. In the past, he has served on the Board of Trustees of Loyola Marymount, Loyola Chicago and Loyola University in New Orleans; the Board of Governors of the Commonwealth Club; and the Board of Regents of Archbishop Mitty High School. His prior board service also includes the Ecclesiastical Board of the School of Theology and Ministry at Boston College. He currently serves on the nonprofit board of Bay Scholars, a highly successful program that supports under-resourced students at Bay Area Catholic Secondary Schools.