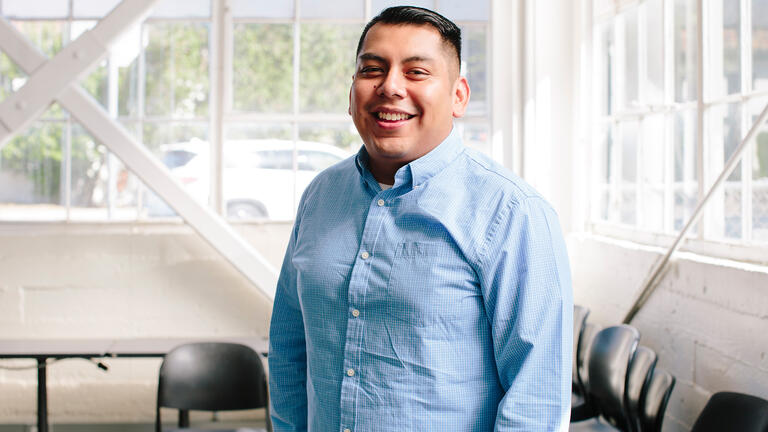 ORANGE COUNTY CAMPUS
Directions
Address
St. Joseph Center
480 South Batavia Street
Orange, CA 92868
Directions
The Orange County Campus is located in the center of Southern California, midway between Los Angeles and San Diego in Orange County.
From I-5 Southbound (from Los Angeles) or From 405 Freeway Southbound (from the South Bay)
Transition to 22 FWY EAST.
Exit Main Street.
At the end of the off-ramp, turn left on Town & County.
Turn left on Parker.
Turn left on La Veta.
At the first set of lights, take a right on Batavia.
Make a left into the St. Joseph Center (480 South Batavia).
From 55 Freeway Southbound (from Riverside/San Bernardino Counties)
Transition to the 22 FWY WEST.
Exit Main Street.
Take a right on La Veta.
Make a left on Batavia.
Turn left into the St. Joseph Center (480 S. Batavia).
From 57 Freeway Southbound (from San Gabriel Valley/North Orange County)
Exit Chapman Ave. (Orange).
Turn left on Chapman and proceed east toward Batavia Street.
Make a right on Batavia Street and go to 480 South Batavia.
Turn right into the St. Joseph Center.
At St. Joseph Center (480 S. Batavia)
The USF programs are located in the St. Joseph's Center, at the intersection of La Veta and Batavia Streets, two blocks east of Main Street. As you turn in the driveway at 480 South Batavia (St. Joseph Center) the building in front of you is the Motherhouse of the Sisters of St. Joseph of Orange. Follow the signs to 'College Parking' (behind the Motherhouse, toward the auditorium).
When parked you will see a flight of stairs and a covered walkway (all outside), go up the stairs and follow the signs to the USF Offices.