USF Graduates Hit the Ground Running
Class of 2021 grads parlay internships into full-time jobs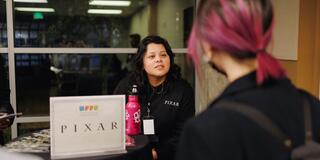 A recent Career Services Center survey of USF's Class of 2021 shows the highest paying majors are computer science, nursing, business administration, and finance.
Grads from those programs are working at Apple, Electronic Arts, Google, Kaiser Permanente, NBC Universal, PricewaterhouseCoopers, Stanford Children's Health, and Teach for America, according to the First Destination survey of the Class of 2021.
The survey asked 2021 graduates about their first jobs after graduation and about their internships while at USF. A record number of alumni responded between April 2021 and May 2022.
Seventy-two percent of respondents are employed and 7 percent are continuing their education.
Eighty-one percent participated in two internships while they were at USF, half of which were paid internships. Students interned with companies, health care systems, government agencies, and nonprofits, including Amazon, Bank of America, Goodwill, Los Angeles Clippers, San Francisco District Attorney's Office, Uber, and UCSF.
"We hear regularly from employers that they're more interested in what a student has learned by relevant experience and internships, and less interested in a student's grades," said Alex Hochman, senior director of the Career Services Center. "Our recent alumni shared with us that their internships helped them get jobs, even when the internships were unrelated to the job they were applying to."
Adam Villarreal '21 worked at two education companies while he was a USF data science major, leading to an internship right after graduation and giving him experience with artificial intelligence (AI) and machine learning, both of which he now works with in his job as a data engineer at Genentech.
"Even though my internship and work experience during school weren't directly related to my current job, they gave me statistical, mathematical, and computer science concepts I need to do my job now," Villarreal said. "And my internships really helped me learn how to navigate speaking about advanced AI topics to people who don't have a technical background. This is something that'll be applicable in many jobs I'll have."
Minh Yin '21 was a history major who interned with the Golden State Warriors and for House Speaker Nancy Pelosi, thinking he might pursue a law career. But when he realized that wasn't the right path for him, the first job he took after graduating was as a production coordinator at Disney. He recently began a new job that melds three passions of his: basketball, unions, and mental health. He's a coordinator for the National Basketball Players Association Mental Health and Wellness Program.
"My internships helped me develop a professional foundation that gave me the skills to excel in an administrative environment," said Yin. "My internships are in varied industries and I made an impact in each one of them, so I always describe my skills as 'plug and play.' Wherever I work, employers know I'll make an immediate effect."