Passion for Justice
Student Learns to Heal Communities Damaged by Conflict
She studies at USF what she would not be allowed to study back home in Afghanistan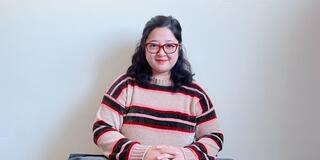 Just weeks after she left Afghanistan for graduate school at USF, Faheema Eissar MS '23 watched the Taliban take over her country. Once she's finished with graduate school, she hopes to help take it back.
For two consecutive years, Eissar has received an international fellowship from the American Association of University Women. It supports her studies in International and Development Economics (IDEC) and her thesis on post-conflict economic recovery.
Life in the Time of Taliban
Eissar knows conflict. She grew up under Taliban rule. She was not allowed to attend school until she was 12 years old. "I lived in a conflict zone all my life," she said.
In July 2021, she left Kabul for USF. In August, the Taliban returned to power. In September, the Taliban government closed the country's ministry for women's affairs, fired female staff members, and renamed the building the Ministry for the Propagation of Virtue and Prevention of Vice. This ministry regulates how women dress and whether women can move outside the home unaccompanied by male relatives.
"Today, I would not be able to leave the country for graduate school," Eissar said. "And if I were to remain there, I would not be allowed to study anything, let alone economics."
When the Taliban took over, Eissar felt distraught but also resolved. At USF, she decided to study economic development in the wake of conflict.

"I want to focus on something that prepares me both mentally and academically for the time when I can go back and do some kind of work for my country," she said. 
At the end of her first year at USF, Eissar applied for a second AAUW fellowship. She received it for the academic year 2022–2023.
"My fellowship and the curriculum at USF are exactly aligned," she said. "Right now I'm focusing on Uganda and the postwar reintegration of abductees and those who have been exposed to war crimes."
Eissar is studying Uganda because "I can't get data from Afghanistan right now, and Uganda was a conflict zone for a long time, so focusing on Uganda can help me learn what I need to."
She is studying economics because "economics is a practical science, and what my country needs. I came to USF because I want to learn to do things that will actually help not just in theory but in action — to have a specific focus and to know how to tackle a specific problem."
For example:
"Why are these particular people not as productive or not performing as well, economically, as others?" Eissar said. "You gather data on them. You look at different angles like what could the possible reasons be. Are they sick? Are they just lazy? Is the problem personal or internal? Is it external? You gather the data and then you analyze it. You discover what happens when people have been exposed to war, trauma, violence."
Compassion in Action
In a region that has been torn by conflict, few have the knowledge to propose economic solutions, she said.
"If you gather hard data on people and on the conditions under which they operate and the challenges they face, then you can speak with authority. Hard data enables you to go to a government agency or a nongovernmental agency or an international relief organization and say, We need this particular kind of help in this particular area for these particular reasons."
Eissar said the IDEC program is just what she was looking for. "I love the skills that I'm learning, the challenges that I go through, and the support that I get. At USF it's not just about finishing the program; it's about learning — and it's about understanding that you belong."
She added: "Right now, I would not want to be anywhere else in the world. In continuing my education, I kind of feel like a representative of millions of girls in my country who have been banned from going to school."