Athletics
Dons Prepare for Prime Time
Men's basketball team will be seen more on television this season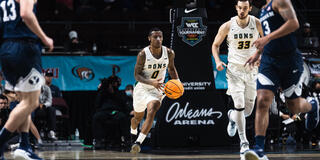 The cheering section for USF men's basketball will get a little bigger this season as at least nine Dons games are scheduled for broadcast onto screens across the globe.
The West Coast Conference has announced the ESPN and CBS Sports Network college basketball broadcast schedules for the 2022–23 season. Dons games will be on CBS Sports Network three times, with the first at home against Arizona State on Dec. 21. ESPN networks will show the Dons six times, with the first of those games also being on the Hilltop against Gonzaga on Jan. 5. The matchup against the Bulldogs will be the first Bill Russell Legacy Game.
USF is ranked fourth in the conference, behind Gonzaga (14), BYU (13), and Saint Mary's (10). 
WCC men's basketball is coming off one of the most successful seasons in the history of the conference — the 2021–22 season saw three WCC teams earn berths in the NCAA Tournament, tying for a conference best. No. 1 seed Gonzaga advanced to the 16th round while Saint Mary's advanced to the second round, and USF competed in the tournament for the first time since 1998.
Additional television information on WCC men's basketball games will be announced as schedules are completed with the conference's television partners. Here is the Dons' 2022–23 schedule.