Equipped to Lead and Succeed
USF Grad Joins National Digital Corps
She works to bring government technology into the 21st century
In June, the Biden-Harris administration selected, from more than 1,000 applicants, 40 fellows of the United States Digital Corps. Christy Tong MPA '20 is one of them.
The 2022 fellows, the first-ever cohort of Digital Corps civil servants, will spend two years tackling issues in health, immigration, and equity. Tong, working as a product manager for the Department of Veterans Affairs, is helping military veterans claim their benefits more easily.
Image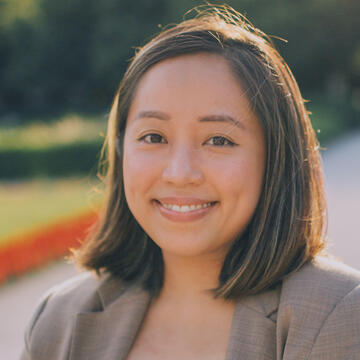 One product she is working on: automated text reminders for medical appointments. The VA still sends reminders by mail, and when a veteran moves, the mail doesn't always catch up, Tong said. Sometimes veterans miss medical appointments.
The project's focus on fixing an accessibility problem — and helping others — appeals to Tong.
"I'm here to do this work not because it's easy," she said. "But because it's hard."
Tong was raised in Hong Kong and has long been interested in how government impacts people's daily lives and how some communities are not heard. That's why she became a journalist after graduating from Hong Kong Shue Yan University.
"I enjoyed telling stories and educating readers to make informed decisions," she said.
In 2015, her career took her to San Francisco, where she reported on business and technology. That's how she became familiar with both USF and the tech community.
"I covered events at and interviewed professors from USF — all positive encounters," Tong said.
And she got to know several alumni from the Master's in Public Administration (MPA) program and decided to apply. During her time at USF, she served with the Malloy Group, a consultancy in which School of Management graduate students help real-world clients address challenges.
"Many schools promote nurturing leaders for tomorrow," Tong said. "USF was the school that told me it was time for us to stand up as leaders for today."