Equipped to Lead and Succeed
Recent Grad Lands a Post at the Pentagon
He went for the internship, stayed for the job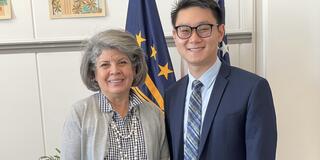 After spending last fall semester as an intern at the Pentagon as a USF in DC fellow, I became a full-time legislative analyst for the Defense Department the day I graduated from USF in December.
I had come a long way since my first day as an intern at the Pentagon. It was right after the withdrawal of U.S. troops from Afghanistan in August and in the middle of Congress' annual National Defense Authorization Act debate, which authorizes the Department of Defense to operate.
I faced a steep learning curve during those initial days and weeks as I tried to understand the inner workings of national security and defense policy, having taken only one course at USF on U.S. foreign policy. I was scared and worried that I would not fit in or be "smart" enough to work at the Pentagon, much less be able to draft memos for senior Pentagon officials and military leaders.
My supervisor and mentor, Elsa Alvarado, with whom I previously worked on the Biden presidential campaign, taught me the basics. My coworkers and fellow interns showed me the ropes. I had many conversations with others there, and it changed my perspective on public service and gave me a newfound interest in national security. I reevaluated my post-graduation plans and decided to stay on at the defense department.
I have been fortunate to meet senior officials like Patty Barron '80, the deputy assistant secretary of defense for military community and family policy. We bonded over our shared USF experiences and how the university changed our lives.
And I met our office's senior leader, Louis Lauter, who was the assistant secretary of defense for legislative affairs. He knew Leo T. McCarthy, founder of the Leo T. McCarthy Center for Public Service and the Common Good at USF. He reminded me of Leo's dedication to ethical public service, a principle I strive for.
Walking into the Pentagon still never gets old. I encourage any USF student interested in government to come to the nation's capital and take advantage of the USF in DC program.
The views and opinions expressed are those of the author and do not reflect official policy or imply endorsement by the U.S. Department of Defense.