Equipped to Lead and Succeed
Undergrad Wins National Changemaker Fellowship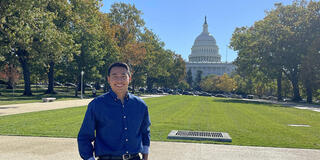 As a USF McCarthy fellow in Sacramento and Washington, D.C., Aaron Fontan '23 said he's seen "how the sausage is made" as policy is developed at state and national levels.
His service extends beyond the two capitals to his hometown of Los Angeles, where he's worked to aid homeless people.
The combination prepared Fontan, a politics major with a minor in public service and community engagement, to win the Newman Civic Fellowship this year. He is one of 173 students awarded the fellowship. The fellows are from 38 states, Washington, D.C., and Mexico.
The Newman Civic Fellowship recognizes and supports students who are changemakers and public problem-solvers. Through the fellowship, students develop strategies for social change.
"It's a really cool culmination of all the work I've done," Fontan said. "I have a passion for serving others and helping my community. Here at USF, they were able to help me excel at that and take it to the next level."
The Newman fellows will meet online throughout the year to discuss community engagement ideas, and Fontan will be paired with a mentor in California. In early 2023, he will attend a week-long conference with the other fellows in Boston.
This fall, Fontan will serve as a McCarthy fellow in San Francisco. He said he's excited to work on policy at the city level.
"Policy is somewhere you can make the most change," said Fontan, who is considering attending graduate school for public policy.
He is also interested in returning to his community in Los Angeles, perhaps starting a nonprofit with a bookstore and a bakery, he said. "I want to bring it back to my community."