Passion for Justice
Student Founds Nonprofit, Helps Improve Education in India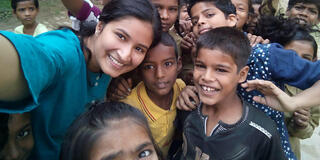 The first time Tina Jain MSMI '23 visited a government elementary school in her hometown of Varanasi, India, she was surprised to find only a few children in the classroom.
"I asked them where their classmates were, and they said, 'At home,'" said Jain.
Jain said she knew that government schools were not as privileged as her private school had been, but she didn't know how underserved they could be.
Soon after, she co-founded the nonprofit Abhikalpana Initiative. Its mission: improve student retention in government schools, which today only 49 percent of Indian children attend. Since 2016, Jain and her team of more than 150 volunteers have reached more than 10,000 students in more than 50 schools.
Visual Design as a Learning Tool
Abhikalpana means "design" in Hindi. Abhikalpana volunteers paint school corridors with words, pictures, puzzles, grammar rules, math problems, and multiplication tables.
"When the students pass these walls and learn from them every day, these concepts get embedded in their minds," Jain said.
In addition to painting walls, the Abhikalpana volunteers engage students in dance, music, arts and crafts, photography, drawing competitions, physical training, and planting saplings — a well-rounded education, she said.
"Everything we do in schools is complementary to the existing curriculum. We don't interfere with teachers' methods or subjects but aim to provide additional resources and opportunities for students to explore their interests and passions."
At each school they visit, the volunteers speak with students, Jain said. "We're all students in university or graduates of university, so the schoolchildren often look up to us and listen to what we have to say."
The volunteers stress that school is much more than just a source of a free midday meal, and they advocate for equal education opportunities for girls.
"We tell the students that it's OK to dream," Jain said. "Close your eyes and think of what you'd like to become."
The Dream Continues
At USF, Jain is studying marketing intelligence as a graduate student in the School of Management. "In my classes I've been analyzing the impact of nonprofits and nongovernment organizations in India and learning how Abhikalpana can improve," she said.
"In the MSMI program, our students learn how to make decisions based on data," said Stephen Kraus, assistant professor in the School of Management. "They learn to apply the principles of science to make better decisions — in business or in life."
Now that Jain is studying full-time at USF, her co-founder, Munish Tiwari, runs Abhikalpana, which is supported by local clubs and fundraising. Jain calls in to staff meetings each week and visits whenever she is in India.
"Last time I was home, I was walking through a market and a girl stopped me by tugging on my sleeve. I didn't recognize her at first, but then she said, 'You taught me in school one day four years ago. You told me to stay in school and to keep studying. I'm still in school. I want to become an engineer.'"