Engaged Learning
Inaugural Black Scholars Know They're Not the Last
BASE initiative marks fourth anniversary with Class of 2022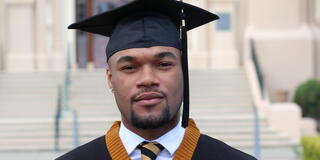 Mikel Gregory '22 gets emotional talking about being one of the first students in the Black Achievement Success and Engagement initiative at USF.
"I'm really appreciative of my peers," he said. "Black students, first-generation students, all from big families, who understand what it means to be first in your family to go to college."
That support from students as well as faculty and staff is key to the success of the BASE program, said Gregory, a communication studies major with minors in African American studies and biology. He is going on to medical school at the University of Southern California.
"I learned what it means to be Black and what it means to be excellent. And what it means to be a person for others. All those values of USF," he said.
A Sense of Belonging
The BASE initiative launched in 2018 to give Black-identified students at USF a community, resources, and scholarships, said Candice L. Harrison, BASE faculty adviser. Students were invited to live in the Marshall-Riley Living Learning Community and were awarded scholarships as part of the Black Scholars Program.
"This work and these students have changed me, and I want to make sure I say that as often as I can," Harrison said. "We think of ourselves as educators who help change students, but they have done the same for me. I am a different person because of BASE. I'm more whole. I'm more vulnerable. And it feels like a collective project of Black achievement."
The Class of 2022 includes 23 graduates from the first cohort of the Marshall-Riley LLC, including 11 Black Scholars, which represents a 77 percent four-year graduation rate for those Black students. The class also includes seven members from the second cohort of the Marshall-Riley LLC.
Emaya White '22 said the program provides a sense of belonging and focuses on the unique experiences of Black students at USF.
"I was able to be an admissions ambassador, an orientation team leader, a member of the campus activities board, and be a part of the BSU (Black Student Union) and BASE program," said White, a media studies major with a journalism minor. "Attending USF was one of the best choices I ever made."
Whitney Smith '22, a nursing major, said she would not have attended USF if not for the BASE program. And while there was a lot of pressure on the first class to succeed, there was support, too.
"It's amazing we've all gotten to this point," Smith said. "It was just an idea, and now we've become this idea."
Advice for the Class of 2026
The graduates said they are happy there are new BASE students following in their footsteps, and they have some advice for them.
"I needed to lean on the people around me within the program and not isolate myself," Smith said. "Learn to ask for help and really advocate for yourself as well."
"Don't be shy about utilizing your resources," White said. "The BASE program has some of the most amazing staff on campus and resources including the Black Resource Center in the library."
Gregory said his advice comes from Michelle Obama: "Learn all you can and make yourself valuable. That's what you can do at USF and in the world."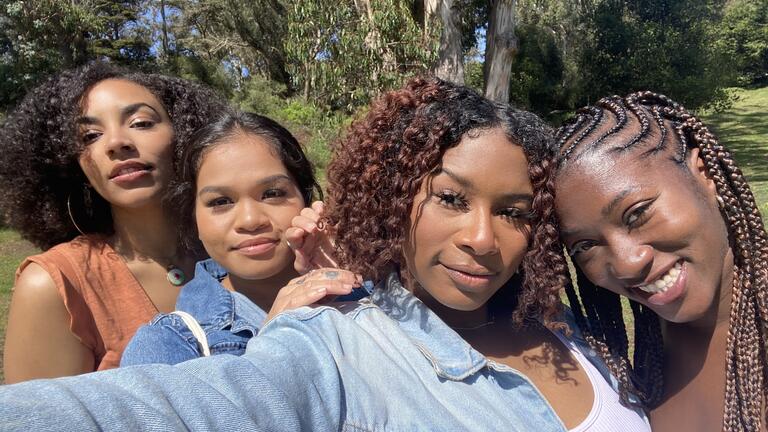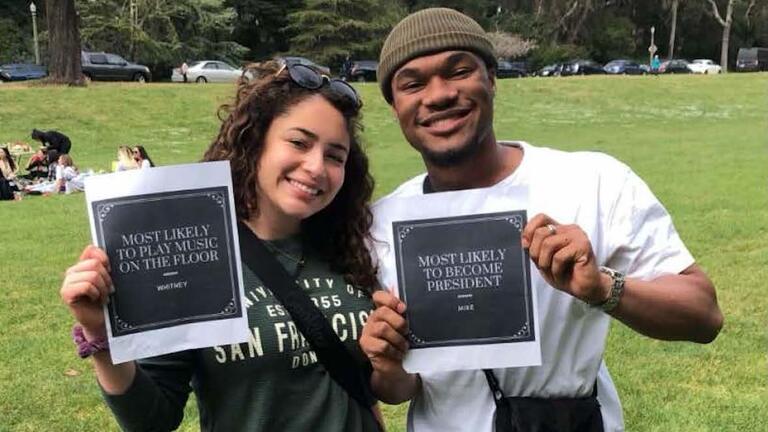 Emaya White, second from right, with friends at USF
Whitney Smith and Mikel Gregory