Alumni
Empowering USF's Black Community
Five Questions with Candice Harrison, BASE Faculty Director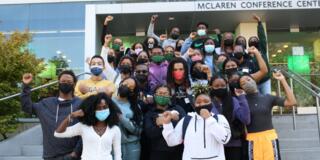 The bonds between students and professors have a critical impact on that success. Dr. Candice Harrison, BASE's faculty director and professor of history, reflects on the relationships she has built within the BASE community and the program's goals for the future. 
What does "Changing the World From Here" mean to you? 
It's a reminder that I have a unique responsibility as a USF professor, which is to prepare and empower our students to do the hard work of transforming the world into a more just one.  
Can you share some of the experiences you've had as the BASE faculty director?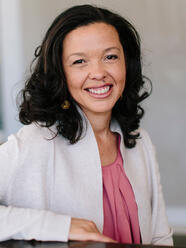 I've had so many powerful experiences in this role over the years, all of which have deeply impacted me. I still vividly remember the first day of teaching my new Black Activists & Visionaries course for the Marshall-Riley Living-Learning Community and walking into a classroom with thirty Black students. Over the previous decade, I rarely had more than five Black students in a class of forty. That was a powerful moment for me as a Black professor, and it was a liberating one. I finally felt comfortable being my whole self at USF. That imaginary boundary between professor and student crumbled and I've never looked back. I now laugh with my students, travel with them, cook with them, cry with them, dance with them, and get angry with them. I still challenge them every day of course, but I also love them — and I tell them so. Directing BASE has allowed me to take off my mask, and I dream of it doing the same for all our Black students. 
How does BASE uphold USF's Jesuit value of "cura personalis," caring for the whole person? 
BASE is the embodiment of "cura personalis." In order for Black students to thrive, they must be encouraged to be their full selves and be valued as their full selves. BASE does precisely this. Our programs, workshops and events focus on various aspects of their diverse lives and equip them with the tools, networks and resources to thrive academically, mentally, financially, emotionally, spiritually, and socially.  
Is there someone within the BASE community who you believe is "Changing the World From Here?" 
Our entire community of Black students, faculty, staff, alumni and administrators are changing the world every day. I'm surrounded by students and colleagues who are constantly making not only the world more just, but who are making USF a more just and inclusive institution. All of them face and overcome incredible personal, professional, social, and systemic challenges, and they do so with grace, love, compassion, strength, and a persistent commitment to bettering the world. It always amazes me, frankly, that my people — one of the most degraded people in modern history — are also the most forgiving, loving, joyful, imaginative, optimistic people. If that's not inspiring, I don't know what is.   
Since BASE was first launched, how has the initiative continued to strengthen support for the Black community at USF and what are your hopes for the future? 
Our Black student community has grown rapidly since we launched BASE four years ago, and that means we are constantly building and adapting programs to meet the growing needs of our diverse students. For example, we've collaborated with colleagues in Student Life and CAPS to launch a new Black Leadership Fellowship Program and Mental Health Ambassador Program. Going forward, we hope to continue expanding our resources for students by strengthening our network of community, alumni, and corporate partners. 
Ultimately, BASE will be successful when USF closes the graduation rate gap between Black students and their peers. That can only be accomplished if it remains a university priority and all members of our community share a commitment to that goal. So, that's my ultimate hope — that we all play our part in dismantling the structural inequities that still exist and intentionally support our Black students on the road to lifelong success. 
To support USF's Black students, consider making a gift in support of the Black Achievement Success and Engagement program and Changing the World From Here: Campaign for the University of San Francisco ».