Diversity
Celebrate Black History Month 2022 at USF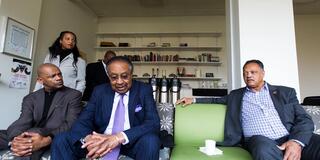 Here are eight ways to mark Black History Month at USF. Register today.
On Feb. 4, 10 a.m. to 2 p.m., the Office of Diversity Engagement and Community Outreach and the Cultural Centers will present the third annual USF Womxn of Color Leadership Conference. 
On Feb. 10, 4 to 5:15 p.m., Clarence B. Jones and history Professor James Taylor present "Living Black History," an online dialogue about Jones' life with Martin Luther King Jr., Malcolm X, Fannie Lou Hamer, James Baldwin, and the Black Freedom Movement. 
On Feb. 11 from 12 to 1 p.m., the USF School of Management convenes an online panel of Black women entrepreneurs who share their journeys. The panelists: Netta Jenkins, cofounder of Dipper; Joy McGowan, founder of I Luv Curls; Karen Hayes, advancement director of Escuela Bilingüe Internacional; and Xiomara Rosa-Tedla, founder and co-owner of UnoEth. Introductions and the welcome will be delivered by Sonja Martin Poole, professor of marketing. Registration is required.
On Feb. 12 from 10 a.m. to 3 p.m., both undergraduate and graduate Black USF students are invited to the Black Career Expo to connect with Bay Area employers, explore career paths and job or internship opportunities, and gain advice from Black professionals on navigating workplaces and creating fulfilling careers. Fill out the registration form for more information.
On Feb. 17 from 4 to 5 p.m., author Andrea Pinkney joins an online discussion, hosted by the School of Education and the Rise for Racial Justice organization, about her new Black Girls Lives Matter book collection. Pinkney, a New York Times bestselling author, has written nearly 50 books for children and young adults, including Loretta Little Looks Back: Three Voices Go Tell It. Registration is required.
Also on Feb. 17, USF is hosting "Black Catholics in Conversation" with Justice Martin J. Jenkins JD '80 and Timothy Alan Simon '79, from 5:30 to 6:30 p.m. The online conversation about faith, justice, and community will be moderated by USF Trustee Naomi Kelly JD '01. Justice Jenkins was confirmed to the California Supreme Court in 2020. Simon, founder of a consulting firm, is an attorney and serves on the North American Energy Standards Board advisory council. Kelly was the first woman and African American to serve as city administrator for San Francisco. Registration is required.
On Feb. 23, 7 to 8:30 p.m., join Cornel West in discussion with USF Provost Chinyere Oparah about reparations for the Black descendants of enslaved Africans, moderated by USF student Natalya Bomani. Register for the event, which will be held in McLaren Conference Center Room 250.
The USF Black Alumni Society invites all to attend For the Culture Cocktail Course online on Feb. 24, from 6 to 7:45 p.m. Black-owned company In-House Bartender will teach attendees how to craft cocktails inspired by Black History Month. The event is free but registration is required.