Research
Fulbright Scholar Pursues Clean Energy in Pakistan
In his work at USF, he addresses power crises in his native country
When Naveed Ahmed Unar MS '23 left Pakistan two years ago to join the Energy Systems Management program at USF, he did so as one of only 4,000 international Fulbright scholars selected to attend master's or doctoral programs in the United States at a university of their choice.
Image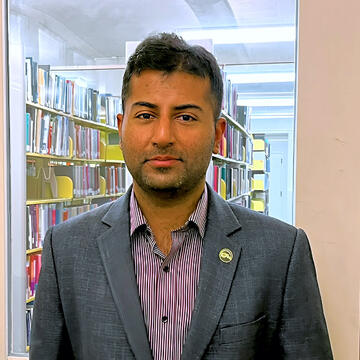 Why did you choose to pursue a Fulbright scholarship?
I hold a bachelor's in electrical power engineering from Mehran University of Engineering and Technology in Jamshoro, Pakistan, and an MBA in executive management from Virtual University in Lahore, Pakistan, and have worked for Pakistan's government-run power division for more than five years. The Fulbright Foreign Student Scholarship Program is the premier international academic exchange program, and I knew it would provide key opportunities to connect with renowned international academics and professionals working in the electrical power and energy industry.
Why USF?
Belonging to a country facing chronic energy crises in terms of generation surplus, transmission constraints, a decrepit distribution network, obsolete infrastructure, and inconsistent energy policies, I chose the ESM program at USF because I believe it teaches, highly effectively, the concepts required for adopting and implementing clean energy transition as power systems around the world are rapidly transforming. Moreover, the program offers a multi-disciplinary and multi-dimensional approach, with a curriculum designed by academic and industry experts that includes courses relevant to today's industry, like energy economics and governance, energy technologies, energy law, energy industry strategy, renewable energy finance, and electricity systems.
Which class or professor has had the most impact on you during your time at USF?
Professor Frank Lindh, the former general counsel at the California Public Utilities Commission, taught an energy law class and explained the complex legal and regulatory framework, and the associated laws, rules, and regulations that shape energy markets, in such an effective manner. He strengthened both my understanding of the American and Californian energy industries and my passion and confidence in the field. And Professor Jim Williams is primarily responsible for helping me develop the skills essential to become a successful energy management professional, thanks to his energy technologies and electricity systems courses. 
What has been your proudest achievement during the program so far?
Publishing my latest research paper, "Modeling and Analysis of Load Growth Expected for Electric Vehicles in Pakistan (2021–2030)," under the theme of Energy Systems Planning, Operation, and Optimization in Net-Zero Emissions in Energies journal by MDPI. The paper was peer-reviewed, revised, and published during the summer break.
What happens when you graduate?
Ideally, I'll develop an energy policy and strategy think tank focused on developing renewable energy and integrating it with the conventional grid system; providing electricity access to less advantaged communities in the developing world; and, reforming engineering service structures in the developing world.