Equipped to Lead and Succeed
Sell food. Support farmers. Feed children. Repeat.
New grad builds a business that has global implications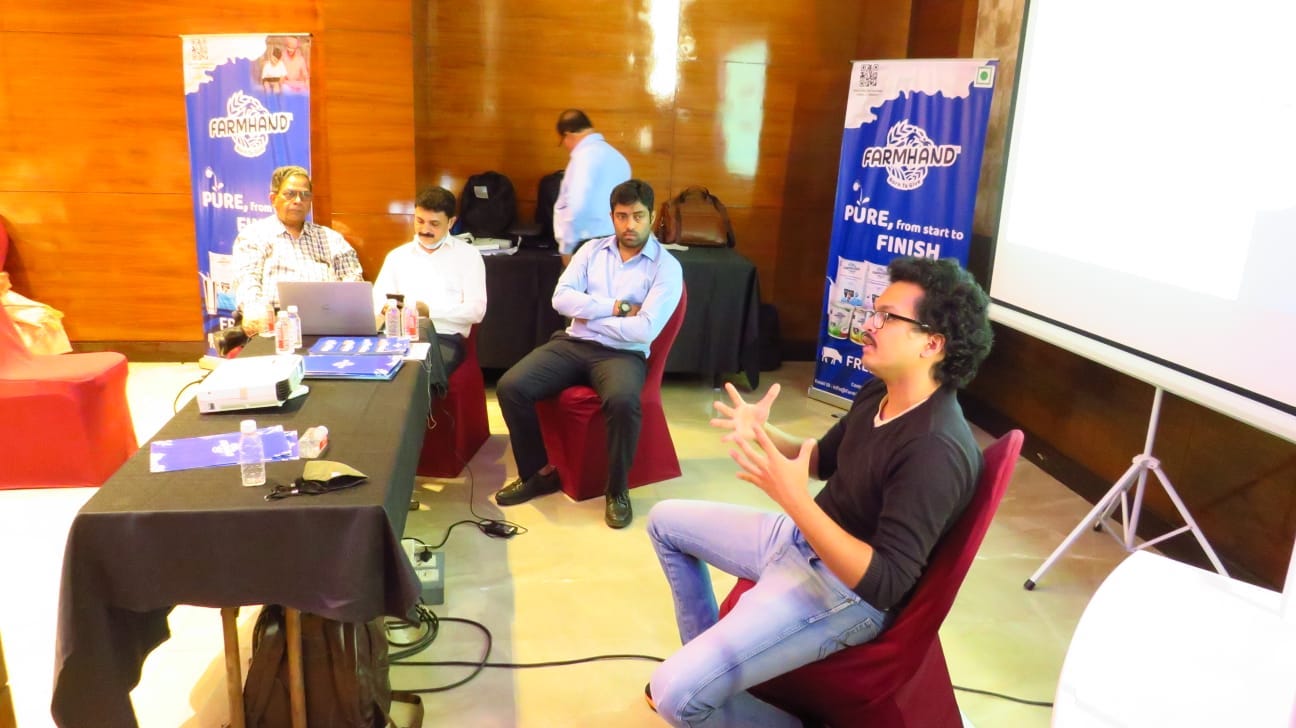 Ritvik Nagarkar MS '22 is exploring how to build a successful business while also doing good. That's the idea behind Farmhand, a company he founded in India in 2020 to work with farmers and to feed children in local orphanages.
Farmhand works with farmers in and around Nagarkar's hometown in the Pune district of India to grow food and raise cattle for milk. The company processes, packages, and sells the food to consumers under the Farmhand brand, and then pays the farmers to also grow food for local orphanages and non-governmental organizations that feed children.
Each day, Farmhand feeds 1,650 children from 22 organizations, Nagarkar said. He hopes to double that number by the end of 2022.
The Farmhand business model is a virtuous cycle, Nagarkar said. Farmhand customers feel good because their purchases support children. The children feel good because they receive regular meals. And the farmers feel good because they gain extra income and a sense of purpose from feeding the children.
"The dream is to make sure that orphanages and charities in general don't have to depend on donations and grants, that there is an actual brand that is dedicated to serving them," Nagarkar said.
Farmhand is poised to turn a profit roughly two years after Nagarkar, who graduated last month from USF's master of science in entrepreneurship and innovation (MSEI) program, launched the brand.
Inspired by Pandemic Problems
At the beginning of the pandemic, Nagarkar's father, who had long given to local charities, noticed an increase in the number and size of nonprofits requesting donations.
Was it possible, Nagarkar wondered, to build a successful business whose sole purpose is to help nonprofits?
He decided to find out. With time on his hands before starting graduate school, Nagarkar put together a small team and secured initial funding, from both his father, who acts as a mentor to the company, and his father's boss, who liked the Farmhand concept. Nagarkar and his team met with local farmers, food processors, distributors, and retailers. At first, they faced skepticism, as well as people's hesitation early in the pandemic to take off their masks to sample products.
"We're now getting inquiries from retailers who want to be part of this because they feel the work is great," Nagarkar said. "That's amazing and something we didn't expect."
Local Company, Global Possibilities
Patrick O'Regan, adjunct professor in the MSEI program, said that Nagarkar's Farmhand idea has the power to spread. "I believe this is a business model that can scale globally, and I'm really encouraging him to work toward that."
Nagarkar continued to oversee Farmhand while at USF. Today, he sometimes incorporates ideas he learned in class, or notions conceived simply from being in the Bay Area, where a startup mindset prevails. "The beauty is that I have an organization I can try things out on," he said.
"Farmhand started as an experiment, and I still view it as that," he said. "I see it as an experiment to understand whether you can have a company with a mission like this that is clearly stated and have it succeed because of its bigger mission. We want to show that it's possible and to inspire more businesses to work like this."