Faculty & Staff Achievements
USF Professor Creates New Roadmap to a Sustainable Future
He charts a path to net-zero carbon emissions by 2050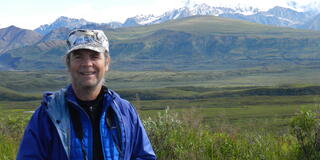 What if we could save the world from climate catastrophe — at half the cost previously predicted?
This is the message in a new climate change study from Jim Williams, associate professor of energy systems management at USF. In "Carbon Neutral Pathways for the United States," published in the scientific journal AGU Advances, he builds a roadmap to a carbon-zero country by 2050.
The study has been embraced not only by energy scholars but by newspapers and social media all over the world. "There's even a Reddit chain on this study," Williams said. "That blows my mind."
Making Change Possible
Williams' study is the first peer-reviewed paper on how the U.S. can reach net-zero or even net-negative greenhouse gas emissions in the next 30 years. It tackles questions such as how to keep wind- and solar-based electricity systems running as reliably as the fossil fuel-based systems that we have today.
Alice Kaswan, professor of law at USF, said that Williams' study "is notable because of its multidisciplinary variables, including science, technology, and economics."
What will it cost? Williams' study tackles that question, too.
"The costs of decarbonization have come down since we were doing these kinds of studies five years ago," Williams said. "Key cost components — solar power, wind power, electric vehicle batteries — have had dramatic declines."
So dramatic, in fact, that Williams now calculates the cost of 100 percent decarbonization (to net zero) to be $150 billion — half the cost estimated in 2015 for only 80 percent decarbonization
"Professor Williams' paper is game-changing because it illustrates that reaching net zero is not only feasible but economically favorable, with even the most expensive scenario costing less than 1.2 percent of gross domestic product," said Brittany Blair, a student of Williams' in the Energy Systems Management program.
Where We Go From Here
So how do we curb climate change? Decarbonize electricity, electrify transportation, and change manufacturing based on fossil fuels, Williams said. Implement wind and solar technology while preserving habitats, farmlands, and cultural sites.
"The most important thing we can do as individuals is elect leaders and support businesses that will make the low-carbon transition happen," he said. "Or you can get elected or go into business and make it happen yourself."
While transforming large energy systems is the main goal, people's actions still matter, he said. "Don't waste. Don't consume needlessly. Love your neighbor. Give other people and creatures a chance to enjoy a decent existence."
Speaking about how USF reflects those notions, Williams said, "I've heard our president, Fr. Paul Fitzgerald, say that combating climate change is a priority for people of faith because it is the poor who will suffer the most from a changed climate."
Making changes in our energy systems won't be easy, Williams said. "One of our main challenges is to develop low-carbon industries and jobs in the U.S. while also supporting a just transition for U.S. workers in fossil fuel-related industries."
He said that the strategies in his study have yet to be turned into an action plan, but he hopes that will happen.
"The actions we identify as high priorities over the next 10 years are also priorities for the Biden administration and the California state government and much of the private sector," Williams said. "I truly believe we can be carbon neutral by 2050."