Campus Life
Family Time, USF Style
This Family Weekend, Oct. 26–28, students and their families reunited at USF to learn more about the university and its resources, hang out in the sun and play lawn games at Gleeson Plaza, and explore San Francisco.
USF News caught up with participants to find out what's been most surprising about their USF journeys so far, hear what advice parents and students have for each other, and learn how students have grown during their time in college. 
---
Image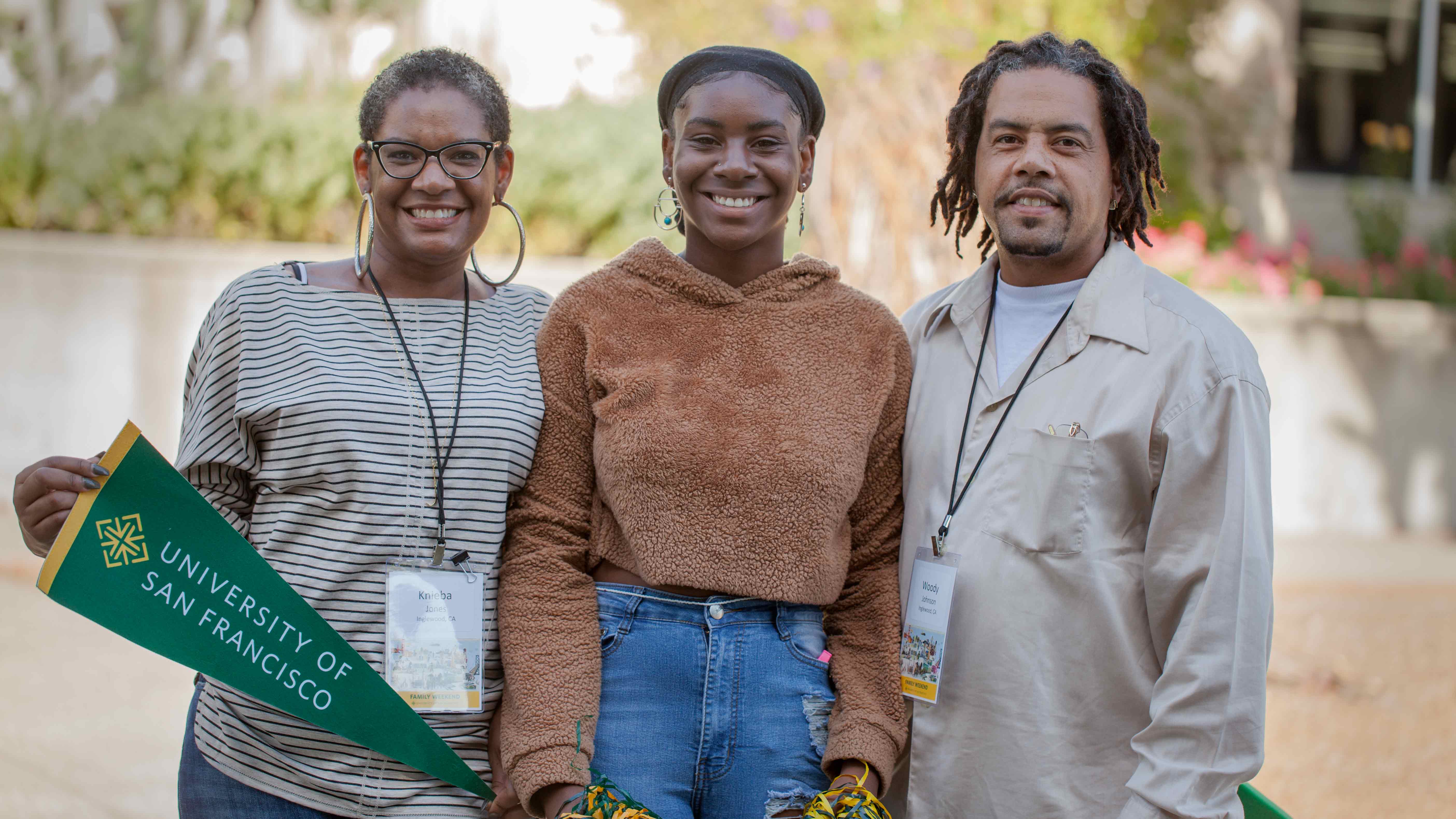 Maasai Rodgers '22 (center) hasn't chosen a major yet, but she knew USF was the place for her as soon as she took the college tour, she says. 
Her mother, Knieba (left), visiting from St. Louis, tells the first-year, "Take risks, stay courageous, take advantage of every opportunity here." 
Maasai's advice to her parents? "Don't worry! I feel like parents worry a lot. Just know that I'm in a great place surrounded by great people, and I'm going to figure it out, even if it takes some time."
---
Image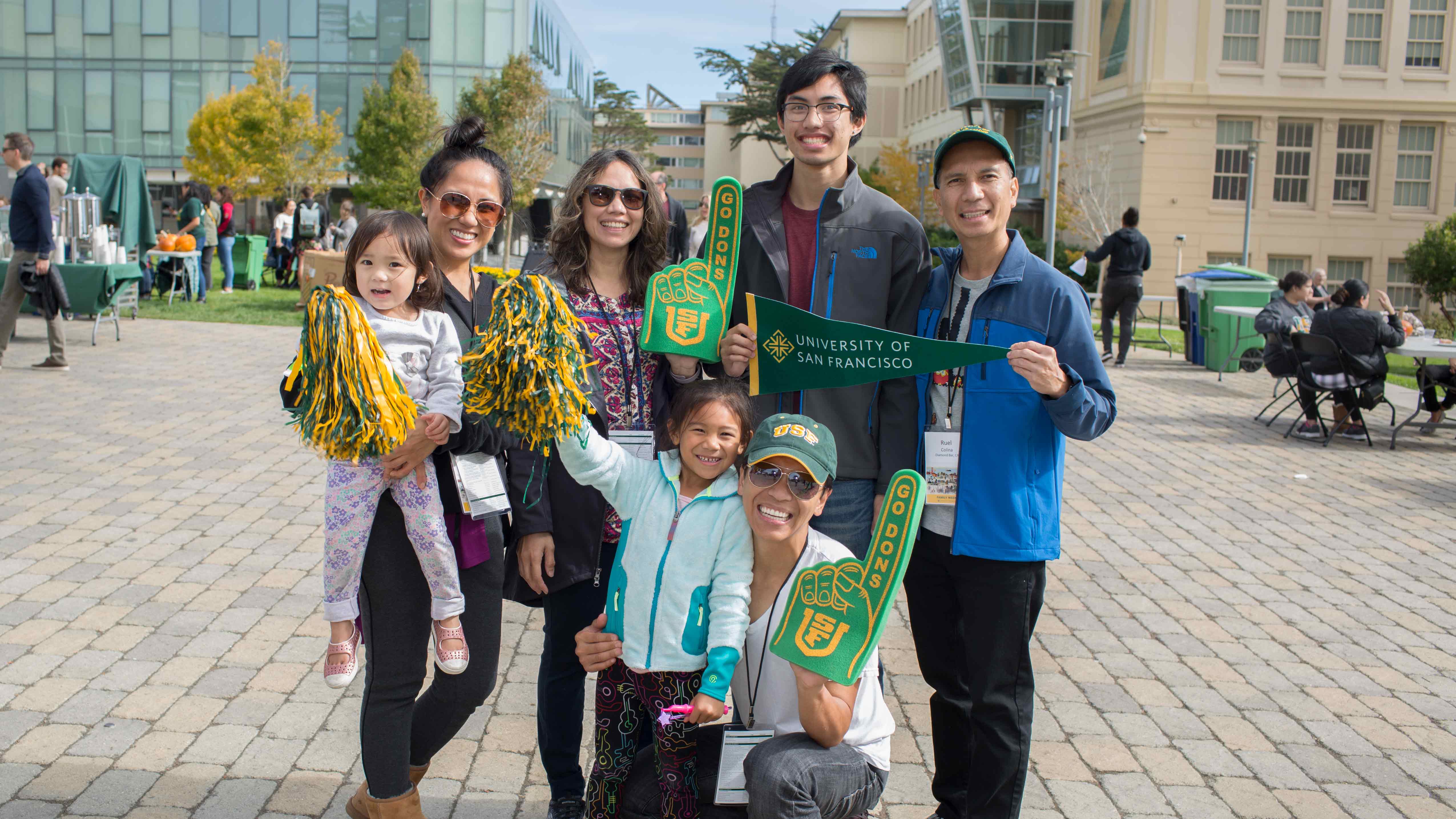 What changes have architecture and community design major Patrick Colina's parents seen in their college junior (second from right) since he came to USF from Southern California? 
"More maturity and responsibility," says Ruel, his father. 
"He can cook for himself!" says Crystin, his mother. "We're proud of him."
---
Image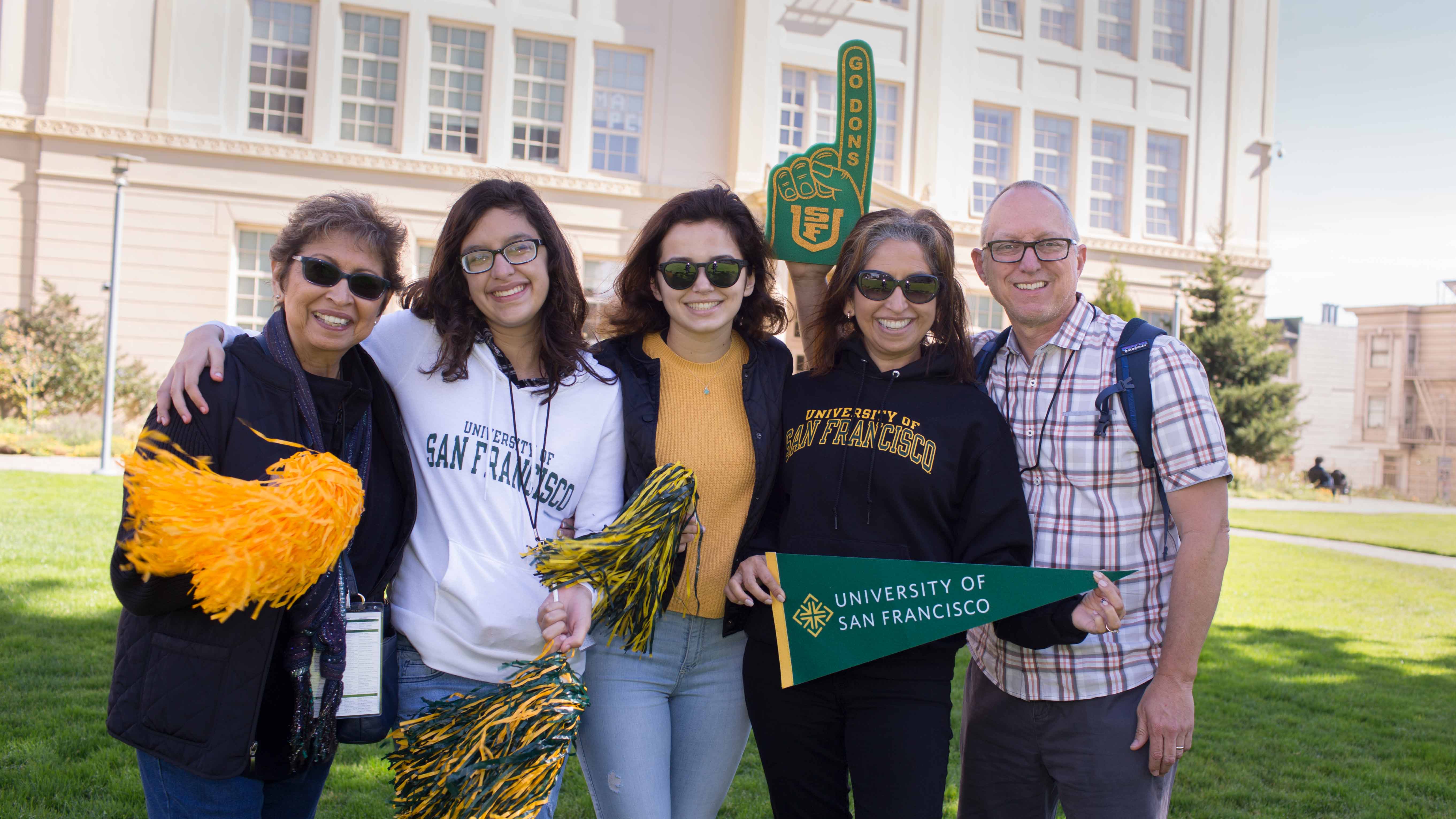 First-year psychology major Madisen Tilley's family traveled from Southern California to give grandma a chance to see Madisen's new home.
Madisen '22 (center) is excited about all the cultural clubs she's seen at USF.
"I chose USF because I really appreciated the diversity that's here. I'm from a small town that isn't really diverse, and [USF] has really opened my mind," she says. 
---
Image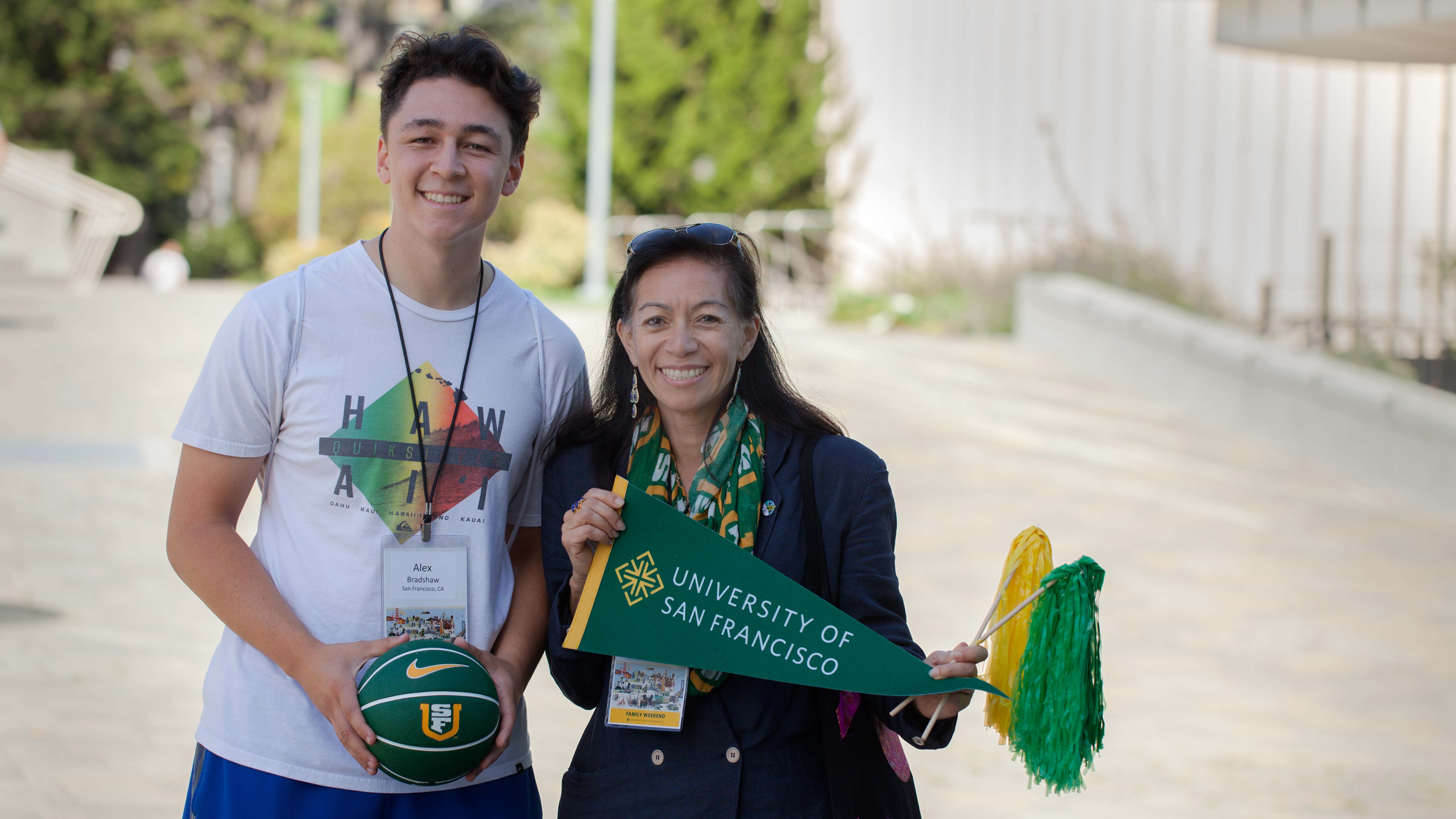 What's the most surprising thing about USF so far?

For first-year math major Alex Bradshaw '22 (left), from San Francisco, it's the fact that you can check out basketballs at the Koret Center.
"That was the most amazing thing ever," he says. "I've taken full advantage of that."
---
Image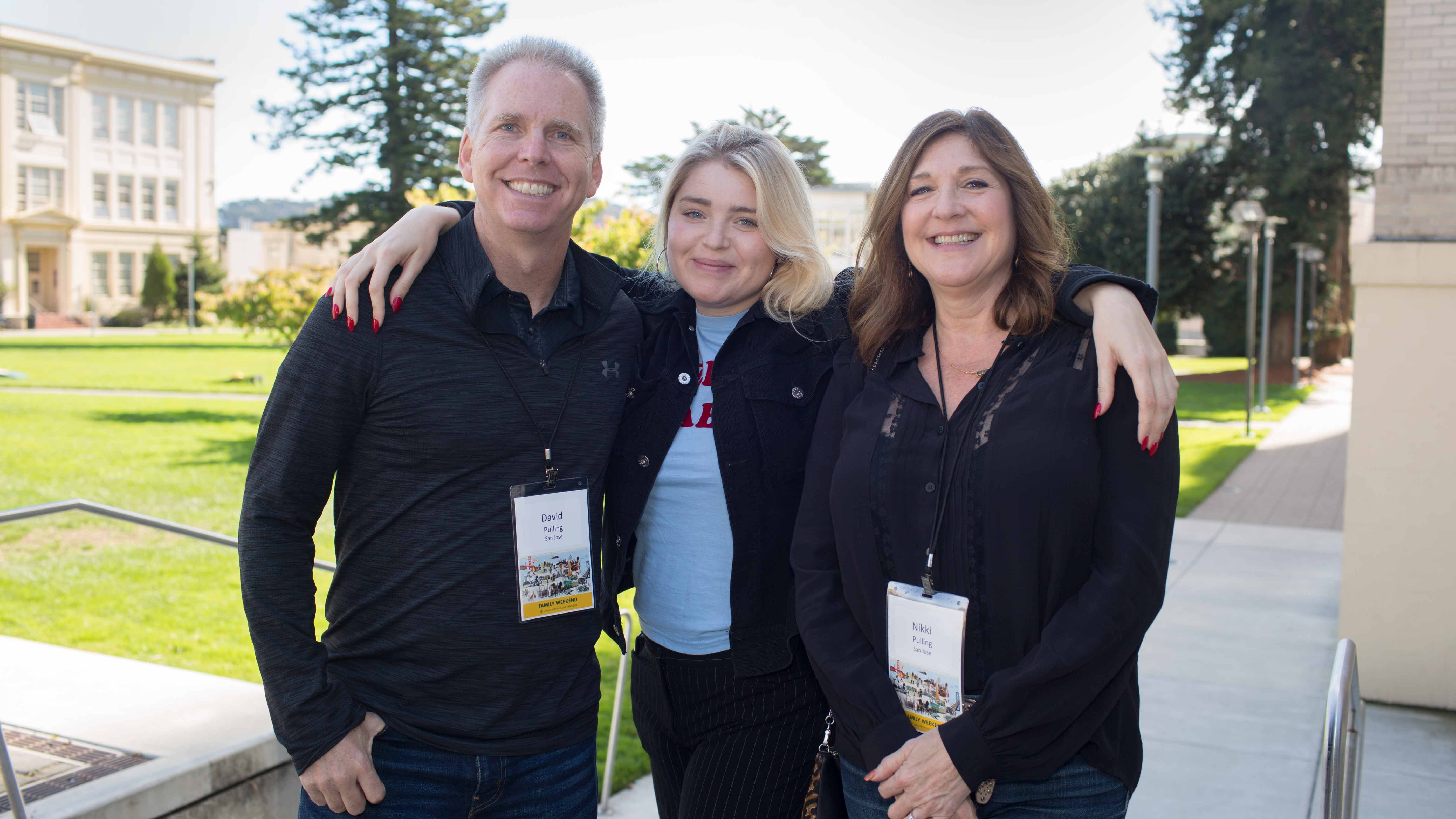 Amanda Pulling '20 (center) transferred to USF this semester from community college in San Jose. The communication studies and media studies double major is a DJ at KUSF, the online radio station, spinning everything from alt rock to jazz.
"I'm a pretty shy person so I think the fact that I even tried at all to get on the radio says a lot," she says. "Finally doing what I want to do has made me really happy."