Dons Number Among the Newest Lawmakers
They take office at the national and state levels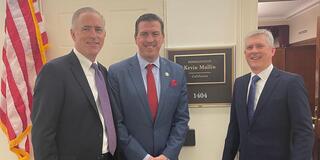 Kevin Mullin '92 was surrounded by family, including his wife, Jessica Stanfill Mullin, and their 4-year-old twins, and a couple of his old friends from USF — all waiting for him to be sworn in to the U.S. House of Representatives on Jan. 3.
They waited. And waited.
Several days later, in the middle of the night and after 14 failed votes for speaker of the house, Mullin was sworn in as one of 81 new members of Congress.
Mullin said his time at USF prepared him to take national office.
"My time as a student senator on the ASUSF Senate and general manager of KDNS, the student radio at the time, were formative experiences that would lead to further pursuit of political communications roles and most certainly played a role in my career path," Mullin said.
The communications major and former California assembly member said Jesuit education influences how he leads.
"The way I have legislated throughout my political career is consistent with the Jesuit values that are at the heart of USF's mission," said Mullin, a native of San Mateo County who now represents the county in the U.S. House of Representatives. Some examples? During his time in the assembly, he had more than 60 bills signed into law, many focusing on elections and democracy reform.
"USF's focus on service above self was a key component in my entry into public service and it continues to guide me every day," Mullin said.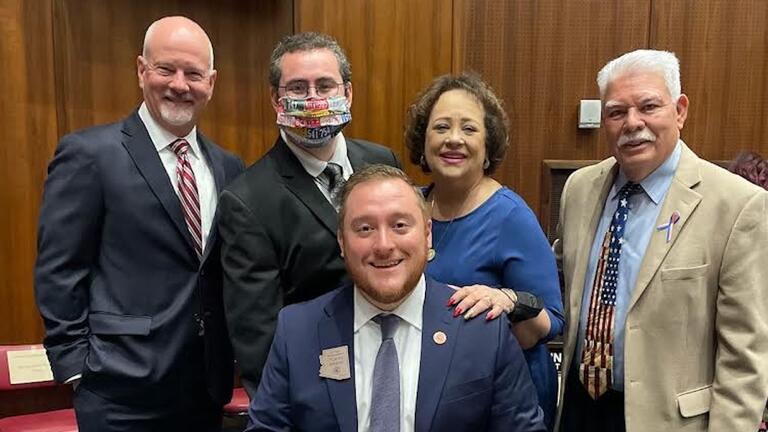 Meanwhile, in Arizona, Flavio Bravo MA '19 was sworn in Jan. 9 to represent Arizona's state House of Representatives' legislative district 26 in Maricopa County.
Bravo, named one of USF's 30 Under 30 in 2021, said his graduate education in the Migration Studies program prepared him to lead in Arizona, a border state.
USF "prepared me to think critically about the role of our state and our policies as they impact migrant families across my legislative district where there are over 64 languages spoken from countries around the world," Bravo said.
Mullin and Bravo are Democrats. Mullin said he will focus on climate issues, supporting election reform, and getting funding for projects in San Mateo County. Bravo said his priority is to address the need for affordable housing in Arizona.