Engaged Learning
MNA Students Go Above and Beyond



Image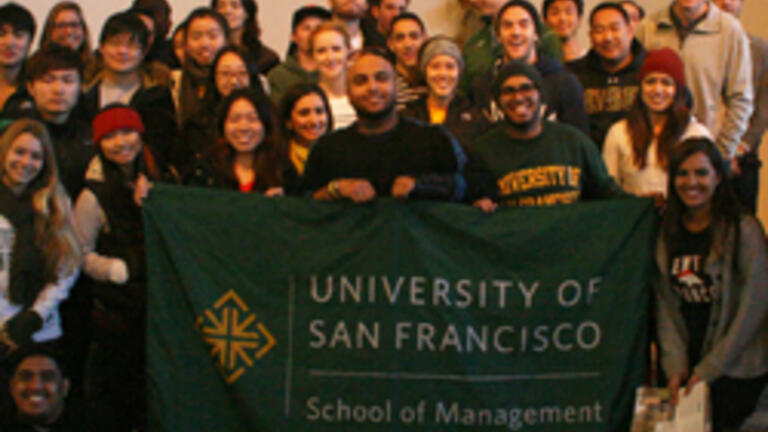 Masters of Nonprofit Administration students advocated for a variety of causes ranging from gun firing regulations in high fire risk areas to working with the homeless in San Francisco. Students voiced their concerns through letters published in local newspapers, attending public meetings, and inspiring one another to passionately align USF values within their current positions.
"The main assignment for the course is for students to develop an advocacy campaign plan," said course instructor Kevin Hickey. "There is no requirement that students actually take action based on the plan.  However, for several groups over the years, the policy issue, students' plan, and the policy process align. The students become involved and actually undertake advocacy related to their policy issue. These are examples of students' public policy advocacy efforts that grew out of coursework," said course instructor Kevin Hickey.
Syri Mongiello, MNA student and an Oakland resident, wrote a letter to the Oakland Tribune publicly recommending an open and engaged discussion between the Oakland Police Department and the city's residents about high crime rates and gaps in police coverage. Mongiello called for the city of Oakland to make an investment in law enforcement and community outreach so the city's "positive attractions can start to outweigh the negative issues." Her letter was published in the Tribune and has emerged on such websites as InsideBayArea.com.

In an article published by Vallejo Times Herald, MNA student Stacey Martinez expressed support for local volunteers to become involved in Vallejo's Participatory Budgeting. With Vallejo as the first city in the United States to implement a citywide undertaking in Participatory Budgeting, Martinez encouraged others to work together towards improving the city. Martinez herself volunteered as an Assemblies Facilitator and Budgetary Delegate and hoped to spark the interest of fellow Vallejo citizens to take part in working towards positive change.
Laurel Hillerson-Spear, Alissa Gentille and Juliana Cochnar met with District 6 Supervisor Jane Kim about homeless encampments in the mid-Market street area of San Francisco. They first collected quantitative data on the number of encampments, specifically noting whether or not the living situations posed public safety issues. By collecting concrete information, compiling data, and speaking to local homeless advocates, this group of MNA students worked to uncover the true impact of homelessness in the area. They discovered that District 6 includes growing nonprofits with an interest in improving the area. A financial analysis quickly demonstrated that it is more cost effective to provide resources to the homeless population than to place them in jail. The students are currently working with the local nonprofits to develop workable solutions to better the area, provide, resources, and improve public safety. Already employed by a nonprofit that directly relates to prevention and intervention with homelessness, group member Alissa Gentille is extremely passionate about these issues. "One of the things that was inspiring was being able to do something real," Gentille explained. "It was not a made up project. I appreciated what I learned in the classroom and was able to apply it to the real world and real issues that impact me directly."
Richard Callahan, department chair of Public and Nonprofit Administration, stated, "In many ways, this exemplifies how the MNA students' core values, work experiences, current jobs and future aspirations align very strongly with the USF values of dignity and justice, as well as the USF mission to 'change the world from here.'"