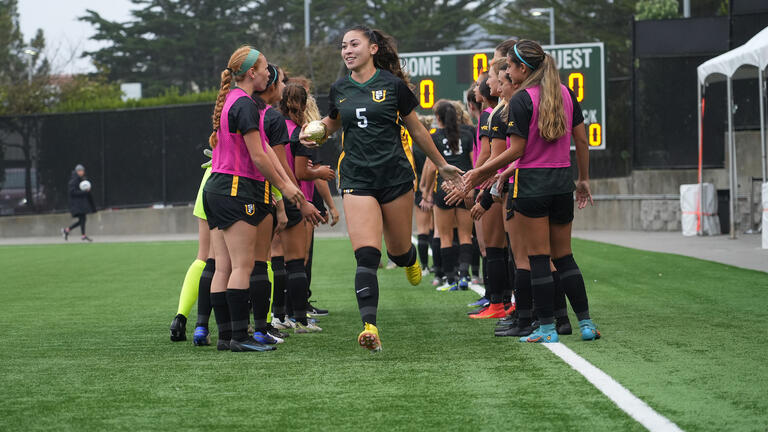 THE CAMPUS EXPERIENCE
Athletics
San Francisco's Only Division I University
At USF, sports play a prime role in our community and in cura personalis, or the care of the whole person. We are the only Division I university in San Francisco and we have a long history of success. USF has 13 team and individual national championships, 101 conference championships, and 102 student-athletes named as All-Americans — including basketball legend Bill Russell, distance runner Charlotte Taylor, and NFL Hall of Famer Ollie Matson of the undefeated and uninvited 1951 Dons football team.
Men's D-1 Teams
Women's D-1 Teams

Baseball
Basketball
Cross Country
Golf
Soccer
Tennis
Track and Field

Basketball
Beach Volleyball
Cross Country
Golf
Soccer
Tennis
Track and Field
Triathlon
Volleyball
We offer more than 20 club sports, including rugby, swimming, ultimate frisbee, and taekwondo; a thriving intramural program with leagues ranging from basketball to kickball to soccer; and if you're looking to show your Dons spirit, we have a band, a cheer team, and a spirit squad that perform at our home games.
Whatever your sport and whatever your level, you can play at USF. And you can cheer, too. Your student ID grants you free access to home basketball, soccer, volleyball, and baseball games, which are a great way to connect with fellow students and with neighbors who join us to support the Dons. We aim to win while also focusing on how sports can enhance health, build character, and create community.
Meet Larry Williams

, USF's New Athletic Director
The former NFL player and lawyer talks mission, morale, and the NCAA's new NIL policy.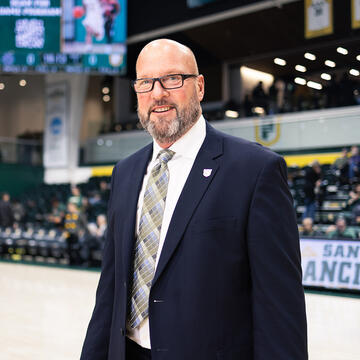 December 2, 2023 1:00PM - 3:00PM
December 3, 2023 12:00PM - 2:00PM
December 6, 2023 5:00PM - 7:00PM
December 9, 2023 2:00PM - 4:00PM
December 11, 2023 7:00PM - 9:00PM
December 13, 2023 7:00PM - 9:00PM
Get up-to-date team results, schedules as well tickets to Dons games.