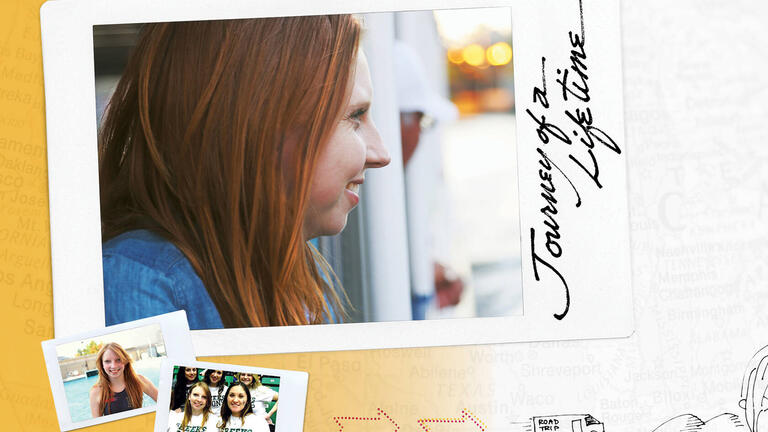 Passion for Justice
Journey of a Lifetime
How a 4,000-mile road trip helped a student with a learning disability find a community and calling that stretches coast to coast
In high school, Stephanie Whitham '15 heard teachers tell her so many times that she'd never make it in college that she almost started to believe them. Luckily for the millions of kids and adults with a learning disability that she's become a public advocate for, she's not one to give up easily.
Whitham excelled at USF. She earned a communications degree in four years and graduated as part of an academic honor society for students with learning disabilities. At last year's spring commencement, her parents were in the audience cheering as a filmmaker captured the moment for a recently released documentary.
With her diploma in hand, Whitham looked straight into the camera and raised her arms triumphantly. She wanted anyone who might see the film, anyone like her especially, to see a reflection of what they could accomplish and to know that they were more than what people said about them.
Whitham is one of three recent high school and college graduates featured in a PBS documentary about people with learning disabilities. The hour-long film, called Being You, is part of Roadtrip Nation — a program that produces documentaries and a long-running television series that follows new grads on cross-country road trips to meet inspiring and successful people.
Image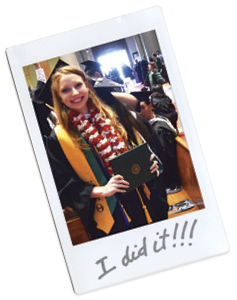 In the documentary, Whitham and her fellow roadtrippers cross 13 states, driving a spring green RV more than 4,000 miles to interview learning disabled people like themselves — including a Harvard-educated ice sculptor, the CEO of a national nonprofit that helps kids with learning disabilities, an Academy Award-winning producer, and comedian and television personality Howie Mandel. The documentary aired on KQED May 8 and is available online for free.
Along the way, Whitham and her companions — college grad Nicole Korber and high school grad Noah Coates — tried rock climbing in Leavenworth, Oregon; hiked in one of the last old-growth redwood forests on the planet at Muir Woods near San Francisco; and explored the busy streets and subways of New York City.
"Being You was the perfect first step in my post-grad life," Whitham says. "I'd reached a major milestone, graduating from college — something some people doubted I could do. This road trip was my next challenge."
Running into a wall
In fourth grade, Whitham was diagnosed with nonverbal processing disorder. It makes interpreting body language, facial expressions, and tonal voice changes difficult. She's been known to mistake someone raising their hand to high-five her for someone trying to slap her, for example. The disorder also slows her reading and writing ability.
"I distinctly remember in kindergarten everyone being able to read, and that was really hard because I couldn't understand why I couldn't," Whitham says in a trailer for Being You. "People told me, 'Oh things will click, you'll be fine, you just need more time.'"
Image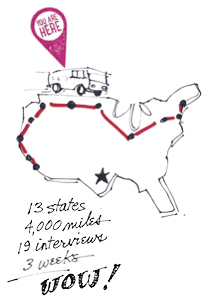 But things didn't click.
It's not an uncommon story. One in five Americans has a learning or attention issue, like nonverbal processing disorder, dyslexia, or attention deficit hyperactivity disorder (ADHD), according to national statistics. With a proper diagnosis and attention from teachers and parents, these learning differences (a term some advocates prefer to "learning disabilities," though "disabilities" provides legal protection under the Americans With Disabilities Act) can be managed. But many young people aren't diagnosed, due to inadequate teacher training and lack of school resources.
In middle school and high school, some of Whitham's teachers dismissed her needs, though the law entitles her to special accommodations like extra time to take tests, she says. Some teachers even wondered aloud why she needed help, and questioned her ability to succeed in the future.
They couldn't see her disability by looking at her, after all. What they could see was Whitham swimming on the water polo team, acting in Shakespeare plays, and earning decent grades, Bs and Cs.
It was as if she had to be failing for some teachers to want to provide support, Whitham says. "Teachers asked, 'What do you think you're going to get in college? People aren't going to give you extra time there.'"
She was demoralized.
"I was trying so hard and it wasn't working. I felt like I was running into a wall every day," says Whitham.
The gift
But Whitham was determined to go to college and prove herself. She was accepted at USF, to her elation.
Even in her excitement, doubts nagged in the back of her head: What if you're not smart enough? What if nobody believes you have a learning difference?
That's a common fear for students with learning disabilities, says Tom Merrell, assistant dean and director of USF's Student Disability Services (SDS). Many people with learning disabilities — particularly those who haven't been diagnosed or don't receive proper support in school — can suffer from anxiety, low self-esteem, and isolation.
In fact, 19 percent of high school students with a learning difference drop out, according to data published by Understood, a coalition of nonprofits that provides information and support for parents of children with learning differences and a sponsor of Being You.
Whitham knows what it's like to feel disheartened and upset about her disability, and it's part of what attracted her to the documentary.
"I want whoever watches Being You to know that they're not alone. I want people to realize how much of a gift having a learning difference is," says Whitham. "It's seen as such a negative thing. Even I saw it that way. And then we go on this road trip where we talk to people who are unbelievably successful, and it's because of the fact that they learn differently. If they didn't have a different perspective on things, they wouldn't be as successful."
Image

'I'm going to be fine'
When Whitham arrived at USF for admitted students weekend in August 2011 she was nervous. She fretted over whether she could succeed at college, and she worried that she'd have to fight administrators to receive the basic accommodations she needed.
Then she met Merrell.
"He said, 'We will give you anything you need,'" Whitham remembers. "It was this really weird moment. It was so easy to go and sit down and talk to him. After that, I was like, 'I can go to school here. I think I'm going to be fine.'"
USF provides a variety of services to people with learning differences, from special electronic pens that record lectures while taking notes, to software that converts books into audio recordings, to workshops on how to talk to professors about having a learning difference. Students can also request a note taker, a service that Whitham sometimes used.
At USF, Whitham earned As, her first since sophomore year in high school. When she graduated in spring 2015 it was as part of the Delta Alpha Pi academic honor society, which recognizes high-achieving students with learning differences.
Merrell watched her grow into a leader by senior year.
"By then, Stephanie was just very confident and very sure of herself. It was wonderful to see," says Merrell, who was her disability services specialist.
Even so, she had setbacks. The communications major had trouble with the core science requirement, which she'd put off until her senior year.
"I went to office hours every week, went to class, had a note taker, and still, even though I was seemingly doing everything right, I continued to fail tests," Whitham says.
She ended up passing the class, but the experience was an unwelcome reminder of the constant struggle — one that can't necessarily be solved by the traditional method of "working harder" and that will continue no matter how confident or empowered she feels.
"It forced me to come to grips with the fact that throughout my entire life things will threaten to derail me, and I will simply have to get through," she says.
A chance adventure
One of the most transformative parts of Whitham's USF experience was joining the university's chapter of Eye to Eye, a national nonprofit that pairs college mentors and middle schoolers who both have learning differences.
Whitham joined her sophomore year as a mentor and later became a coordinator, working with an Eye to Eye national staff member to provide weekly lesson plans for art projects that helped kids express their feelings about having a learning difference. The mission of Eye to Eye is to help children build self-esteem and become advocates for themselves.
Image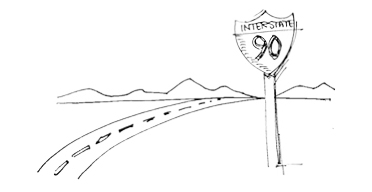 "I discovered this avenue for advocacy work," she says. "It made me realize it was something I wanted to continue doing. All the kids were so amazing, and I felt like I was really making a difference."
It was Eye to Eye that opened the door to Being You, an adventure she chanced upon while scanning Eye to Eye's Facebook page.
"At Eye to Eye, they stress that the best way to strike out stigma and change the way that people view learning differences and ADHD is for people with learning differences to tell their stories," Whitham says. "Tell your story to everyone and anyone. Roadtrip Nation was this incredible opportunity to do that on a massive scale."
"I couldn't believe it," says Whitham about the day — just two weeks before graduation — that she learned she was chosen for the documentary. "I was thinking, 'Is my story engaging enough? Will people connect with it?' Then there was this huge scary moment where I was like, 'Oh, I'm going to tell the entire world that I have a learning disability.'"
But she knew that this was a chance to step into a leading role — to use the confidence she'd gained through her time at USF and Eye to Eye to make a difference.
Over the course of three weeks, Whitham and her fellow road trippers, accompanied by a small film crew, trekked across the country. The first leg was from San Diego to Portland and Seattle, and then east on the country's longest interstate, I-90, toward Missoula, Montana. They steered the Roadtrip Nation RV onto I-94, following the Yellowstone River toward North Dakota and across the northern states to Chicago. Then they headed to New York City, before driving the homestretch to Boston. Along the way, they interviewed 19 people.
"The best part of the road trip was meeting someone new every day that was so incredible, had overcome so much, and was just like me. Every day was so empowering," Whitham says.
Courage to tell others
In Los Angeles, comedian Howie Mandel, creator of the children's show Bobby's World and host of the game show Deal or No Deal, told the roadtrippers that when he was their age, he was "a mess."
"I knew I had issues not allowing me to concentrate in school," said the comedian, who has ADHD and obsessive compulsive disorder (OCD). "Those issues would make me anxious. I was very depressed, I didn't have friends."
Mandel later wrote a book about living with ADHD and OCD.
The courage to tell others about their learning differences was a theme of Whitham, Korber, and Coates' interviews.
"I realized that if I do not go and tell my story, if I don't go find my people … I'm going to feel alone in this experience the rest of my life," David Flink, co-founder of Eye to Eye, told the roadtrippers during his interview. "The idea of Eye to Eye really came from me wanting to find my community."
Image

Putting yourself out there and finding community are at the core of what Whitham describes as a growing campaign to improve the lives of people with learning differences.
"I'm part of a social movement — a movement of different-thinkers fighting for recognition and acceptance," Whitham says. "This movement is driven by storytellers breaking down stereotypes and stigma to redefine how society views people with learning differences, and how people with learning differences view themselves."
One of Whitham's favorite interviews was with Academy Award-winning producer Peggy Stern in her New York City apartment, with her Oscar on her desk. Looking at the award, and listening to Stern talk about her early struggles with dyslexia and later success, Whitham realized something: Academy Award-winners can have learning disabilities. So can famous television personalities. And Pete Denman, a computer designer who helped create audio software used by world-renowned theoretical physicist Stephen Hawking. And John Rodrigues, who dropped out of high school but went on to Harvard and became a professional ice sculptor and high school geometry teacher. And on and on.
Why then had she spent so much of her life doubting herself?
"I realized I need to change that," Whitham says. "If I think like that, probably other people do too. And I'm not okay with it. I can't accept that."
Image

Center stage at SXSW
Being You made its premiere in March at SXSWedu, an education conference linked to the popular arts and culture festival that takes place each year in Austin, Texas.
Whitham stood in front of more than 100 parents, teachers, and school administrators. When the lights came up at the end of the film, she told her story and answered questions.
"This is what I've decided I'm going to dedicate my energy and my time to," she says. "Being an advocate and activist, I want to change the way people as a whole think and talk about learning differences."
It's a chance to use what she learned in communications classes like Rhetoric of Social Movements, and a way to harness her communications skills to redefine negative stereotypes.
A few weeks after the premiere, Whitham was offered a job in New York City with Eye to Eye as a national program coordinator in charge of 15 chapters in high schools and colleges.
The struggling high school student who didn't know if she'd be able to handle college has come far. She graduated from USF, became a mentor for young kids with learning differences, trekked across the country interviewing famous and successful people, appeared in and became a spokesperson for a documentary film, and landed a job in New York as a national advocate for hundreds of students with learning differences.
It's impressive by anyone's standards.
"When I started the documentary, my goal was to get kids to be comfortable with having a learning difference," she says. "Now I have the chance to do that full time. It's my dream job."