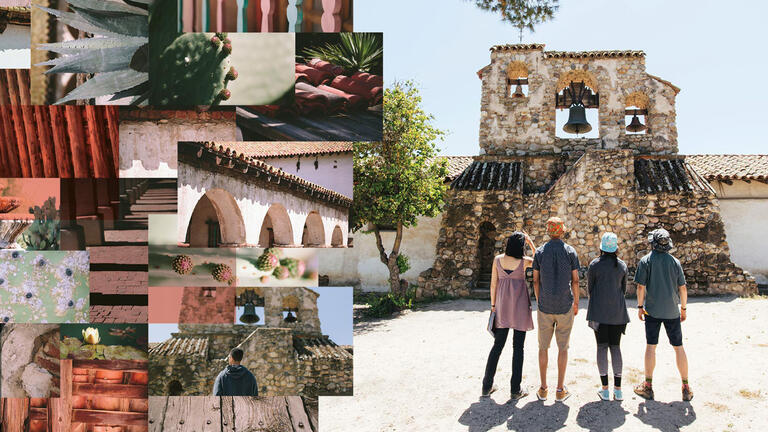 Engaged Learning
The Future of History
Architecture students use lasers to save California missions
Standing atop a dusty bluff overlooking the coastal surf town of Santa Cruz, Dominic Lizama '16 and half a dozen of his architecture classmates survey a building with sandpaper walls and a Spanish tile roof.
The modest, one-story adobe structure is easily overlooked by tourists, but the students know it's an irreplaceable landmark — one of 21 religious outposts established in the late 18th and early 19th centuries by Franciscan missionaries to spread Christianity to Native Americans. It marks a distinct chapter in California's pre-statehood.
But Lizama and his classmates aren't there to study its history. They are there to save it.
A former dormitory, the earth and wood beam structure was built in 1791 to house Native American converts, or neophytes, as they were called. It was once part of a sprawling 32-building complex that included a plaza, a church, a bell tower, and a two-story granary.
More than two centuries later, it's the last original relic of a rich, albeit controversial, history.
We don't know if it will survive," Lizama said of the building. It's one of the state's oldest adobe structures, and he's right to be worried.
The Franciscan missionaries didn't set out to build structures that would become prized heritage sites. In some ways their aim was both more modest and far loftier: The outposts were meant to enable Spain to extend its colonial reach to what it regarded as untamed lands. As such, the missions were constructed out of whatever was at hand, largely adobe — a type of mud-brick vulnerable to the seasons and natural forces.
Many of the original missions that extend up and down the California coast, including Mission Santa Cruz and Mission San Miguel where USF students are at work, have been damaged by earthquakes. Others are slowly eroding and could one day join a list of heritage sites reduced to rubble, like Haiti's National Palace, leveled in a devastating earthquake in 2010, and India's 13th-century Konark Sun Temple, left in ruins after a 2004 tsunami.
But while those sites are lost forever, Mission Santa Cruz's last remaining original building can be saved. That's because USF Architecture and Community Design students have created a 3D model of the mission, one that could enable anyone with access to a computer to virtually tour and explore its history.
The project is part of a partnership with California State Parks and CyArk, an Oakland-based nonprofit that helped USF purchase a 3D scanner and trained Assistant Professor Hana Mori Böttger and her students how to use it. CyArk's mission is to digitally preserve heritage sites around the world like Mount Rushmore and Ancient Thebes in Egypt for historical and educational purposes. It was the first USF student project to use the 3D Lidar laser scanner, a powerful tool that offers a unique hands-on learning experience and an opportunity to digitally preserve some of the state's irreplaceable treasures.
Virtual reality
Like any piece of technology that's expensive, complicated, and fragile, USF's 3D laser scanner usually makes Böttger's students a little nervous at first.
"It takes time for them to wrap their heads around what it is and what it can do," said Böttger, who directs USF's Architecture and Community Design program.
And no wonder.
The scanner is the kind of state-of-the-art technology that's yet to become industry standard. In fact, it's still out of reach for most architects and designers, let alone undergraduate students.
Image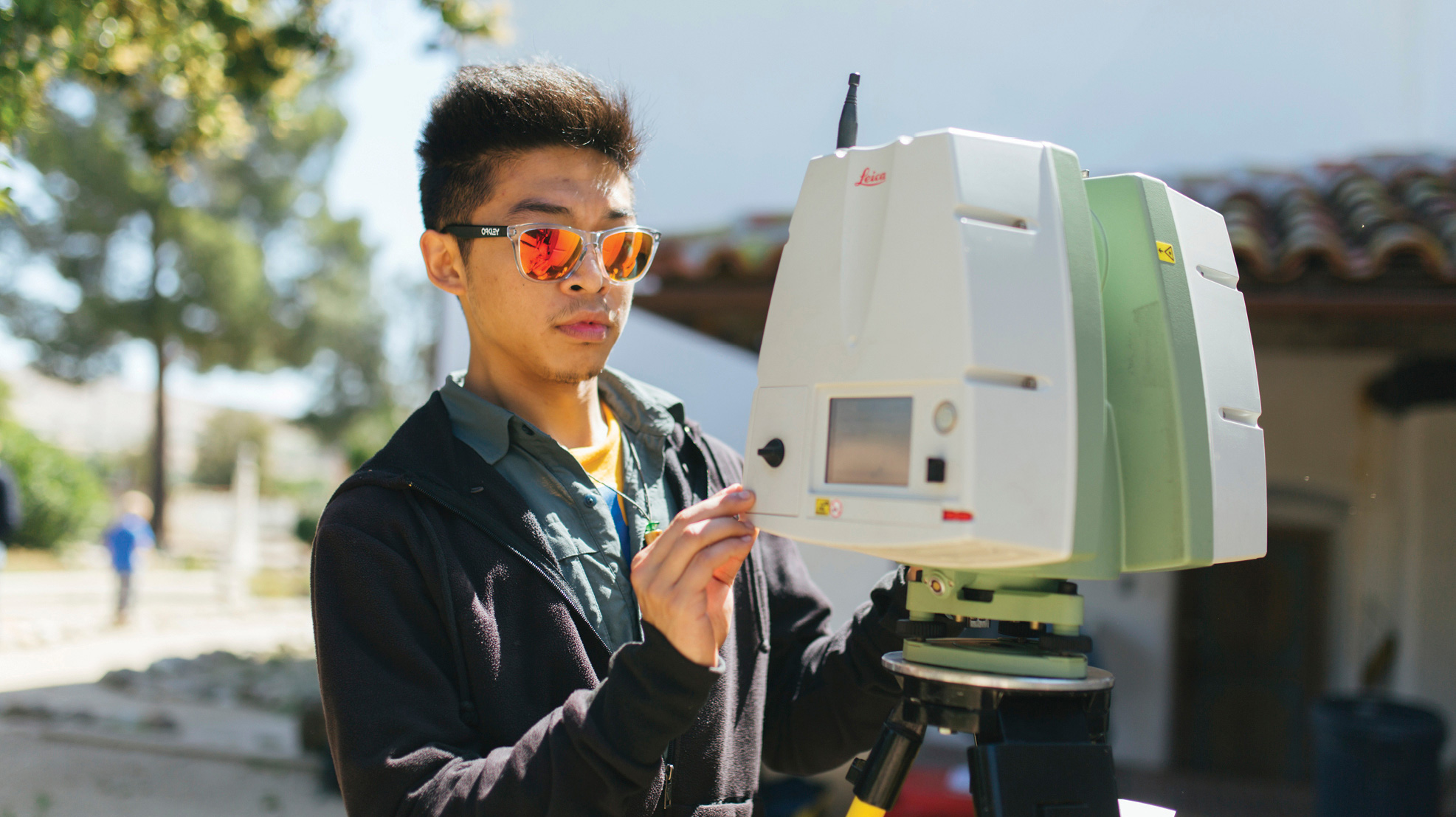 The scanner resembles a futuristic video camera perched on a tripod. Instead of recording color and shape, it gathers data from beams of light it shoots out in a radius and measures the time it takes for the light to reach a surface and return. It records the coordinates of each point, so that they can be mapped in a 3D model. About 10,000 points can be recorded in a second.
Böttger was looking for a project to break in USF's new scanner when CyArk suggested that she and her students create a 3D model of Mission Santa Cruz's last original building. It immediately struck her as the perfect assignment.
USF being a Jesuit Catholic university, it made all the sense in the world for us to contribute to the preservation of California's Native and Catholic history," Böttger said.
Plus, she adds, Mission Santa Cruz was the perfect laboratory for her students to learn how to use the scanner. Its adobe walls are lumpy and bear centuries of wear and tear, so recording its dimensions the old-fashioned way — with a tape measure — would be next to impossible.
So last spring, Böttger and her students drove down the coast with the scanner and set to work.
The students scanned every interior and exterior surface of the 20 by 150-foot former dormitory. The work took all day.
It was exacting and exhausting but worth it, said Lizama, whose family is from Guam, a small U.S. territory in the Pacific Ocean. He hopes to use what he's learned to preserve some of his home island's aging heritage sites, after he graduates.
What the students came away with was a constellation of coordinates, called a point cloud, that they plugged into architectural modeling software. They spent the semester building a digital 3D model of the dormitory, duplicating the building's appearance.
Image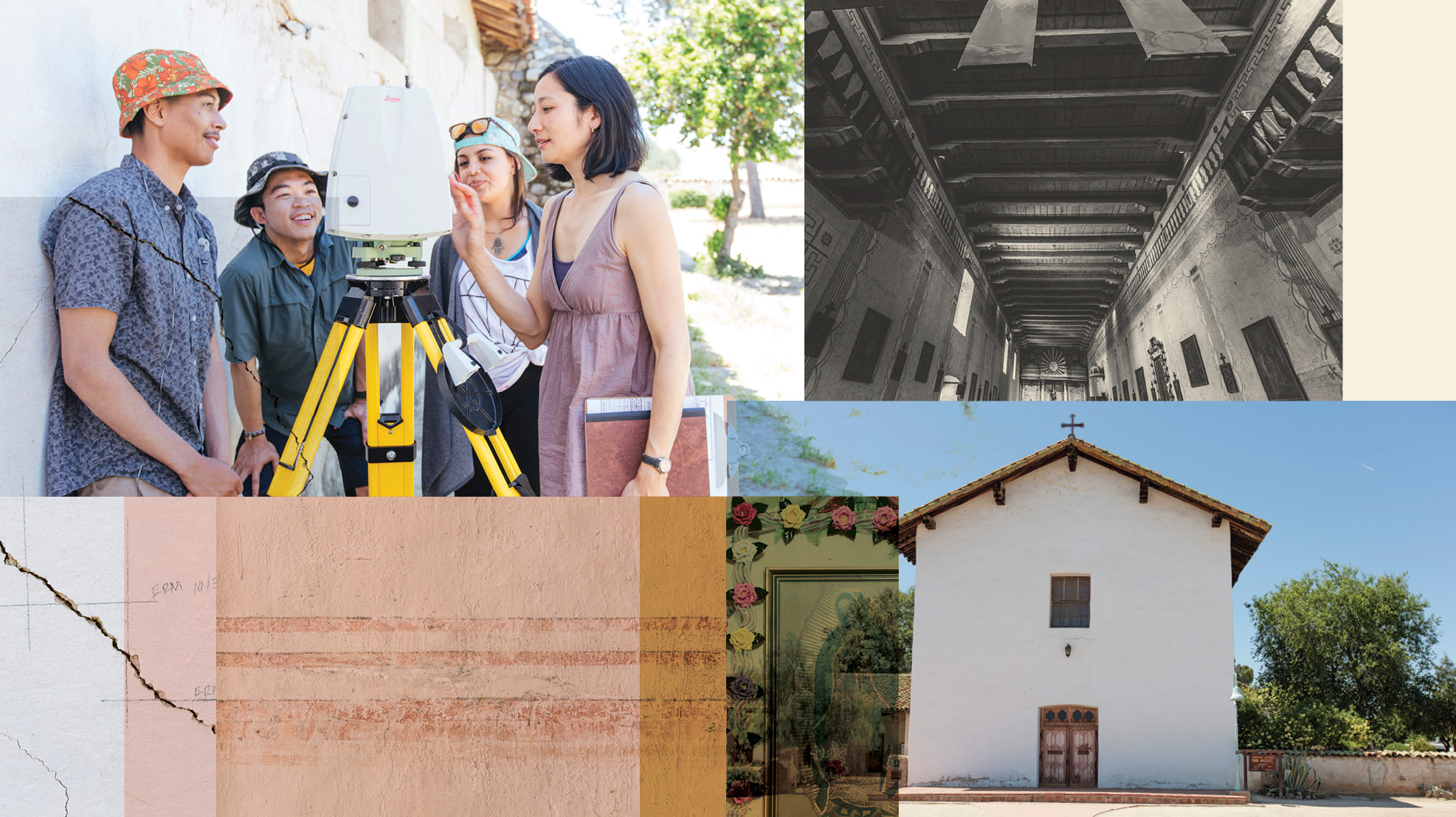 "Every part of this is amazing. These might be some of the only undergraduate students in the U.S. who are using a 3D scanner," Böttger said. "They can immerse themselves in thinking about design in a way that other students cannot. It's a very unique perspective on space and structure."
The students' 3D model of the mission can be manipulated and rotated using a computer mouse, simulating the experience of physically exploring the mission. Viewers can virtually walk its pathways and peek into former bedrooms, and even get a birds-eye view of the roof in a way that visitors can't.
Böttger gave CyArk the scanner data, which the nonprofit plans to archive in its online library. Once the project is complete, the heritage site will be accessible to students, Native tribe members, and just about anyone with access to a computer. It's a tremendous accomplishment that serves the public, said Elizabeth Lee, CyArk's vice president.
"About 450,000 fourth graders study the missions every year as part of the state curriculum, but not all of them live near missions or have access to them," she said. "This data helps us provide them a window into a chapter of history that really shaped the state. USF has really helped us further our archive."
An endangered landmark
But the model's utility extends beyond California history lessons and tourism. It can be used by engineers to examine the condition of walls and roofs and look for structural weaknesses. That's critical for eroding historic landmarks, particularly those in earthquake country.
"We want to see how weather and climate change have affected the missions," said architecture major Cindy Arce '16, who grew up visiting the landmarks with her family. "The scanner allows us to zoom in on cracks and water damage in the adobe so we can preserve these amazing cultural relics."
In fact, cultural preservation has become a key goal of Böttger and her students' work.
Last October, Böttger, Arce, and another student traveled to the Salinas Valley to scan a second mission, Mission San Miguel. Founded in 1797, the mission's church, a monastery wing, several residences, and a cemetery remain. It boasts some of the most well-preserved interiors of any of the missions, and features vibrant murals painted by Native Americans nearly two centuries ago. But over the years, small earthquakes have cracked the mission's adobe walls, and in 2003, a powerful earthquake struck the Central Coast. The mission, just 35 miles from the epicenter, was badly damaged. The National Trust for Historic Preservation closed the site for renovations until 2009 and named it one of America's most endangered places.
Image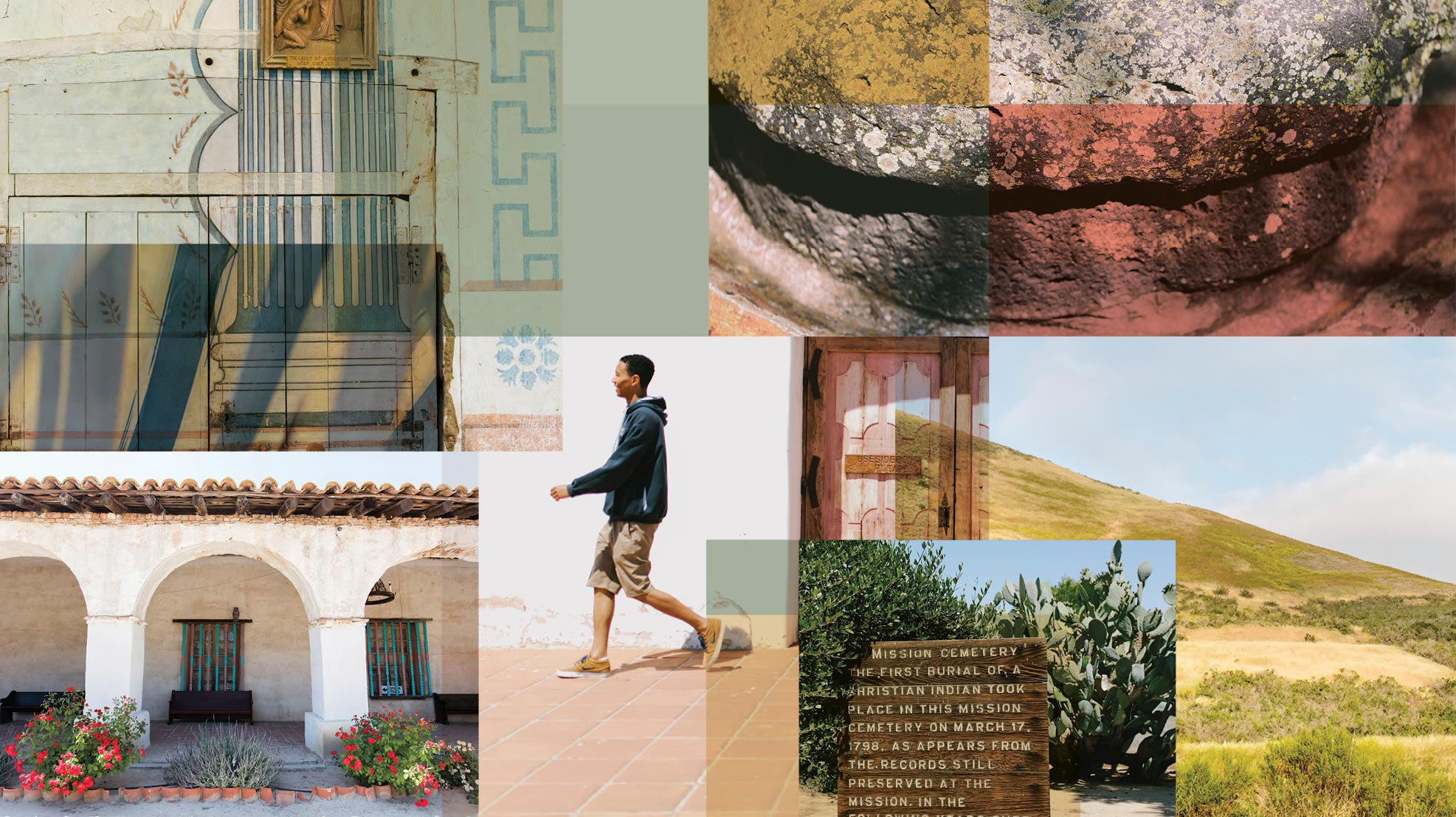 The mission is now reopened, and there are ongoing efforts to preserve the cultural treasure. Böttger and another class of students are using the 3D scanner to monitor the mission for structural damage and erosion. In order to see how age and climate, including this year's El Niño, affect the mission, they returned for a second set of scans this spring. Their findings could help engineers better understand how to reinforce the precious landmark.
"We always talk at USF about extending the classroom outside of the classroom, and this is an especially unique way to do that," Böttger said. "For our students to be contributing something toward the preservation of California history is pretty special."
Rising from the rubble
Saving heritage sites like the California missions is only one aspect of Architecture and Community Design students' impact in the real world. Seth Wachtel, department chair, said students are not only taught to build and rebuild structures, but to build communities.
Students in his International Projects class, for example, are paired with community partners and design projects like gardens and community centers for under-resourced communities around the world. Among the more ambitious projects they've tackled is the 3,000-square-foot Bibliotheque du Soleil in Haiti, a library and community center to replace one that was destroyed when a 7.0 earthquake struck the island in 2010.
"We worked hand-in-hand with the nonprofit Haiti Soleil and local residents," said Mengxing Wang '12, who was part of a three-student team that designed the library. She recently completed a master's in architecture at Columbia University and hopes to start her own architecture studio emphasizing social responsibility.
"Our design blends contemporary architectural geometry with traditional Haitian steel drum art, which is featured in the library façade's intricate metal screens," she said.
Image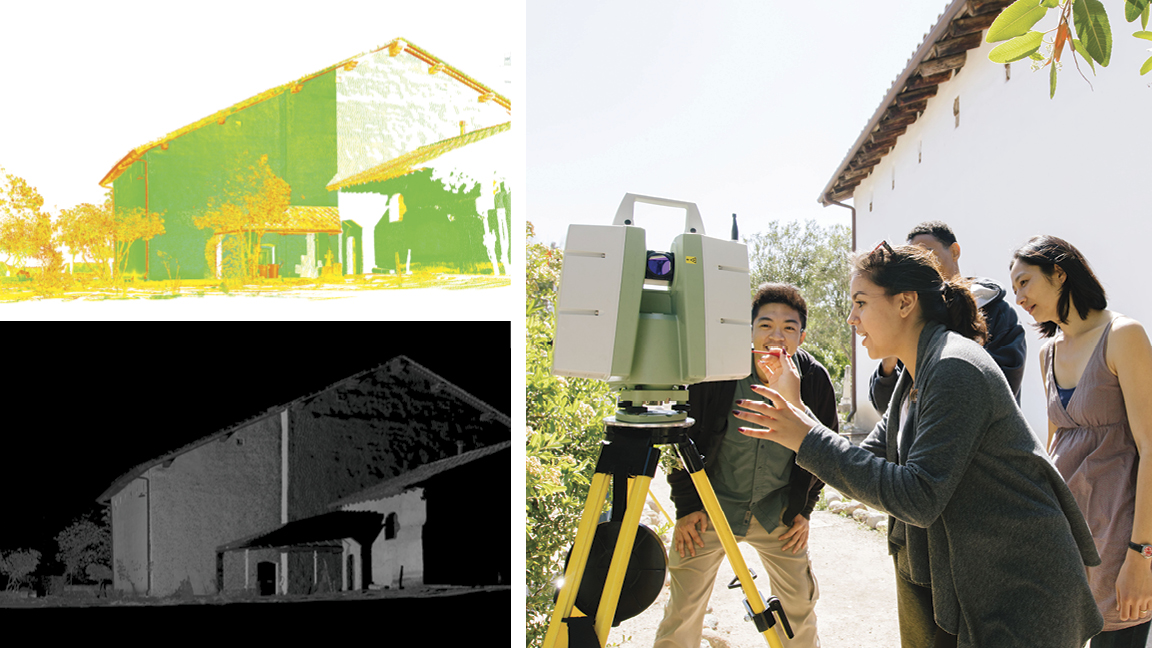 Other projects include a school in Nicaragua and an organic tea processing center in Nepal. In San Francisco, students designed and helped build a community garden in the city's under-resourced Bayview neighborhood that won the city's Neighborhood Empowerment Network award.
"USF has such a unique approach to architecture. Other schools are more focused on designing something that's glamorous or 'pops.' At USF, it was really about using our knowledge to help people in need," said Wang. "I have such a valuable portfolio. What I present to employers is something very beautiful."
---
STUDENT PROFILE
Design That Does Good
Ricky Torres '16 has the voice of a jazz singer, the mind of a structural designer, and the heart of someone who's impatient for change. That's why, for him, the thought of sitting in a classroom taking notes for four years made his eyes glaze over.
After dabbling in music, Torres decided at 23 to go back to college to be an architect. He looked for a hands-on program that was interdisciplinary and rooted in getting out of the classroom and into the field to do good. And while there weren't many programs that fit his vision, he found a home at USF, where social, political, and environmental issues are deeply woven into the architecture discipline.
"Being in an interdisciplinary program has given me the platform to be innovative and think of my class assignments as real projects," he said.
For an assignment on alternative building materials, Torres discovered a way to recycle plastic shopping bags into strips of yarn, or "plarn," that he crocheted into larger sandbag-like sacks that he filled with soil.
And presto, "earth bags!" Torres tested the bags and believes they can be stacked into sturdy walls held together with wire and used to build low-cost homes in developing countries.
Thinking outside of the box — or rather the classroom — is exactly what department chair Seth Wachtel envisioned when he arrived at USF 12 years ago. The architecture program was 1 year old, and he was its first full-time hire.
Cultivating smart activists
The idea, he said, was to teach theoretical and technical skills, but also show students that their power to impact the world started the moment they set foot on campus. It's a recipe for developing what he calls 'smart activists' — professionals with the skills to excel and the heart to effect change.
"What's really unique is that they are growing skills and learning that they are fully capable of making change from early on," said Wachtel, whose students have designed a school, libraries, and community centers from Nicaragua to Nepal and beyond.
The fruits of Wachtel's vision for the program are scattered all over the world in its graduates, who have gone on to top master's programs at places like the University of California, Berkeley and Columbia University, and to work at prestigious firms like New York's Buro Koray Duman and San Francisco's Plant Construction Company, the latter of which recently completed the new Berkeley Art Museum and Pacific Film Archive building.
That vision is also reflected in the program's current students and the way they view their work.
"This is not just school. This is life," Torres said. "We're studying this for life, and these projects could be real-life things."
Oftentimes they are.