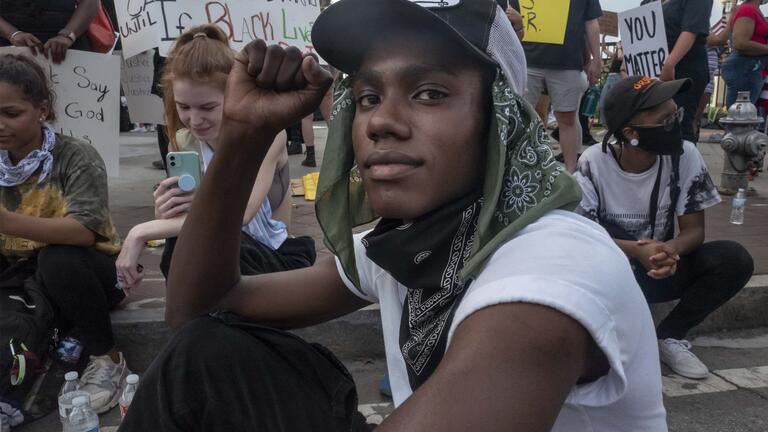 INSTITUTE FOR NONVIOLENCE AND SOCIAL JUSTICE
News & Editorials
Photo by Jason Francisco, Black Lives Matter protest, Atlanta, 2020.
The USF Institute for Nonviolence and Social Justice is dedicated to confronting and overcoming injustice and systemic violence, and committed to engaging in public dialogue with the goal of justly resolving complicated community conflicts. Here you'll find various media pieces in which we promote our common aim of justice and equality.
On August 28, 1963, during the March on Washington, the Rev. Dr. Martin Luther King Jr. delivered one of the most iconic speeches in American history. The "I Have a Dream" speech was a defining moment in the civil rights era and continues to be a source of inspiration to millions today. In 1963, Dr. King called for an end to racism in America through equality, freedom, and justice for all. 52 years later, the dream of Dr. King is yet to be realized.
With sweeping inequity in the economic, healthcare, and criminal justice systems, and the continued brutalization of Black and Brown people, it is time for a revival of Dr. King's vision for this country.
Join Faith & Prejudice as we listen and learn from Dr. King's confidant, personal attorney, and speech writer, Dr. Clarence Jones. As a co-writer of the "I Have a Dream" speech, Dr. Jones' prophetic impartation will provide us with much needed inspiration as we endeavor to bring Dr. King's vision of racial justice and equality for all, into reality.
October 24, 2023 7:00PM - 8:30PM
Off-Campus Event - KQED, 2601 Maripost Street, San Francisco, CA 9411
Institute for Nonviolence and Social Justice
2130 Fulton St.
San Franciscio, CA 94117