Passion for Justice
Racial Justice Leader Comes to Campus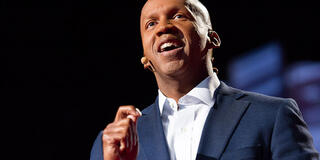 Students, faculty, staff, and the community have the opportunity to hear from a racial justice leader in conversation with USF's Dr. Clarence B. Jones at St. Ignatius Church on Nov. 19.
Bryan Stevenson, founder and director of the Equal Justice Initiative (EJI) in Montgomery, Alabama, is the recipient of this year's Clarence B. Jones Award for Kingian Nonviolence. The EJI provides legal representation to prisoners without effective representation, prisoners who may have been wrongly convicted of crimes, and others who may have been denied a fair trial.
Jones was lawyer, friend, and speechwriter to Dr. Martin Luther King Jr. and is the founding director emeritus of the USF Institute for Nonviolence and Social Justice.
Stevenson will speak about racial justice in America, and there will be a moderated discussion between the two men, led by Lateefah Simon MPA '22. The Kronos Quartet will perform a composition dedicated to Jones.
The first 400 students to register will get free tickets to the event. Discounted tickets are available for faculty and staff.
Stevenson received an honorary degree in 2008 from the USF School of Law. 
"We need people not content with their status, but who embrace their identity as a person who does justice," Stevenson told law graduates. "If you do that, you can change the world."