Global Perspective
Warrior Stephen Curry Honors USF's Institute for Nonviolence and Social Justice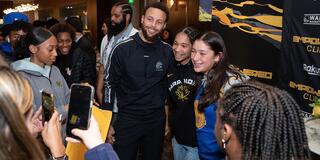 NBA All-Star Stephen Curry selected USF's Institute for Nonviolence and Social Justice (INSJ) for a $100,000 donation after being named the league's Kareem Abdul-Jabbar Social Justice Champion on May 23.
Curry said he's passionate about the work of the institute and its commitment to overcoming injustice and systemic violence. He met INSJ co-founder Clarence B. Jones when he participated in a 2020 USF Silk Speaker Series conversation about education and activism.  
"Together, with the organization's co-founder and director, Dr. Clarence B. Jones, we have initiated meaningful conversations around social justice with [USF's] student body, doubled the charity's donations through my foundation Eat. Learn. Play's gift- matching initiatives, and continued building on [the INSJ] mission in my personal and professional life by holding people accountable and promoting the principles of justice, fairness, and equality today, tomorrow, and in the future," Curry said. 
Jones, a friend, speechwriter, and lawyer to Martin Luther King Jr., said he is grateful for their collaboration. "Stephen Curry belongs in the pantheon of great athlete activists," Jones said. "Along with Kareem Abdul-Jabbar, Muhammad Ali, Jim Brown, John Carlos and Tommie Smith, Billie Jean King, Martina Navratilova, and Bill Russell, Stephen stands with true heroes who have helped to bend the arc in the struggle to redeem the soul of our nation."
Curry is the third recipient of the NBA's social justice award.
The league noted that Curry was selected from a group of five finalists for his dedication to pursuing social justice and advancing Abdul-Jabbar's life mission to engage, empower, and drive equality for individuals and groups who have been historically marginalized or systemically disadvantaged. 
"I am deeply honored to accept this extraordinary gift from Stephen Curry and the NBA," said Jonathan D. Greenberg, INSJ director. "Stephen Curry has improved the lives of countless people throughout the San Francisco Bay Area and across the nation. We congratulate him for this incredible award." 
Curry is a co-chair of Michelle Obama's "When We All Vote" initiative; the founder of lifestyle brand Underrated, which empowers often-overlooked student-athletes and enables them to be seen by college recruiters; the founder of Unanimous Media, a multimedia company that works with underrepresented filmmakers, creators, and writers across the entertainment industry; and the cofounder (with wife Ayesha) of Eat. Learn. Play., a nonprofit that works to ensure children in Oakland and beyond have access to nutritious food, resources to foster a love for learning and reading, and safe places to play.