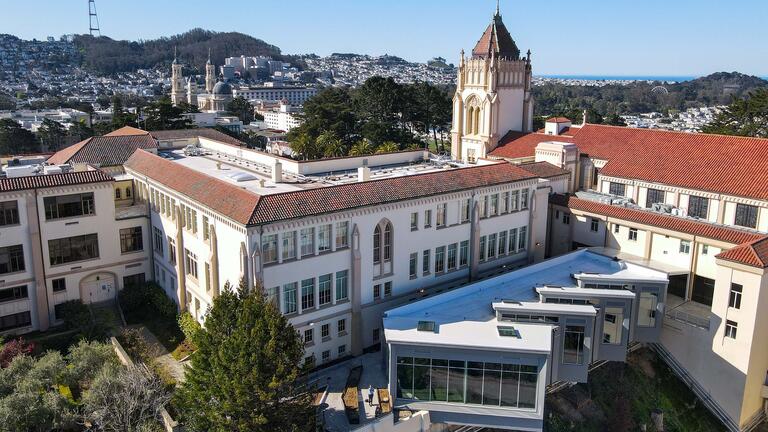 A RESOURCE FOR USF'S NEIGHBORS
Community Relations
As an urban university, we share our gorgeous campus with neighbors. We make every effort to maintain a safe, respectful, and stimulating campus environment for our neighbors and students. Learn about upcoming USF events, discover the benefits of living nearby, access information about the university's institutional master plan, and get updates on major construction projects.
When visiting the USF campus, please bear in mind
The University of San Francisco is a smoke and tobacco free campus.
We ask that neighbors clean up after their dogs. We try to supply waste bags, but please bring your own just in case.
USF is committed to responsible use of water during the drought. If you use the shower facilities at Koret Health and Recreational Center, please limit your shower to five minutes to help us conserve water.
When visiting the post office on campus, please do not park or drive on the Facilities loading ramp. The parking spaces and ramp are reserved for USF business only.
Reporting Student Behavior
For all off campus emergency issues please contact the San Francisco Police Department (SFPD) (911). When an immediate response is needed (large parties, excessive noise) please call the SFPD at (415) 553-0123 as well as USF Public Safety at (415) 422-4201 and supply as many details as possible. USF Public Safety will attempt to coordinate with the SFPD to determine if USF students are involved and will respond as appropriate in adherence with the Memorandum of Understanding between USF and SFPD.
Contact Information
Report Student Behavior
Emergency: 911
SFPD: (415) 553-0123
USF Public Safety: (415) 422-4201
Office of Student Conduct: (415) 422-5330
Online
Elizabeth Miles, Manager
Institutional Master Plan
Phone: (415) 422-5611
neighbor@usfca.edu
Facilities Management
Phone: (415) 422-6464