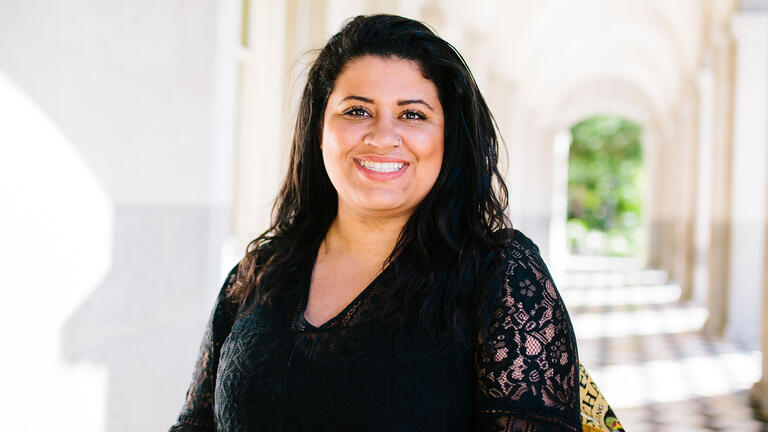 The Dream Continued
Taylor Jackson was inspired by a civil rights leader to tackle big political and ethical issues.
Taylor Jackson '14 wasn't born when Martin Luther King Jr. delivered one of the most famous and influential speeches in American history. Growing up, she held the "I Have a Dream" speech in awe and reverence.
Today, Taylor receives career advice from USF Visiting Diversity Professor Clarence B. Jones — friend, legal counsel, and speechwriter to King, and the person who most helped King craft the speech.
"I'll be telling my grandkids about getting the opportunity to learn from him," says Taylor, who took Jones' class From Slavery to Obama her junior year — which, coincidentally, was also the 50th anniversary of the March on Washington.
Turning activism into the law
Jones impressed on Taylor the important role of activists as well as the role of lawmakers and politicians.
"At the end of the day," Taylor recalls Jones saying, "if Lyndon Baines Johnson hadn't signed the Civil Rights Act, it wouldn't be law."
Those words stuck with her. As a senior legislative aide for California Assemblymember Roger Hernandez, D–West Covina, Taylor played an integral role in the policy-making process, working on laws like one that legalized physician-assisted suicide, and one that created a Native American Day state holiday.
Even if I don't work in government in the future, I know I want to be in a field where I'm making a positive impact. In my interview for the legislative aide job, they asked me what I want to do. I said: 'Change the world.'"
Her USF theology degree and Jones' mentorship were instrumental in her path to Sacramento after graduation, says Taylor, who is now an associate consultant with the California State Assembly's labor and employment committee.
"Clarence helped me realize that I can use the ethics of my theology major in politics," Taylor says. "His class reminded me of the immense power a small group of dedicated people can have on the world."
As a legislative aide, Taylor met with groups on both sides of an issue. Sometimes religious arguments take center stage, as in the debate over the Death With Dignity bill, legalizing physician-assisted suicide.
"I think if I hadn't had my very specific ethics-based experience, I wouldn't have come to the table on issues like the Death With Dignity bill with such a nuanced perspective," she says.
A sense of service
Taylor chose USF, in part, because of a generous financial aid package that helped her and her single mother pay tuition.
At USF, Taylor learned to lead. She was a senior class representative in the Associated Students of the University of San Francisco, vice president of internal affairs on the Greek Council, a member of the Delta Zeta sorority, a singer in the gospel choir, and a Leo T. McCarthy Center for Public Service and the Common Good fellow — to name just a few activities.
USF instilled in her a deep sense of service.
"Even if I don't work in government in the future, I know I want to be in a field where I'm making a positive impact," Taylor says. "In my interview for the legislative aide job, they asked me what I want to do. I said: 'Change the world.'"