Giving
Shaping the Leaders of Tomorrow: The Leo T. McCarthy Center
Each student at USF arrives with bold dreams, fiery passions, and diverse stories to share. Through programs offered by the Leo T. McCarthy Center for Public Service and Common Good, the university provides each of these students with the resources needed to guide them toward further success and greater potential. 
Inspired by the McCarthy Center's commitment to shaping students into future ethical leaders and becoming a driving force for social impact, Craig Newmark made a recent $195,000 gift in support of the McCarthy fellowship programs in Sacramento and San Francisco, USF in Washington, D.C., and the Leo T. McCarthy award. His gift will allow the university to expand upon the legacy of the late Leo T. McCarthy '55, the McCarthy Center's founder and well-known champion of justice.
McCarthy's Dream for Sacramento 
Soon after the McCarthy Center was officially opened in 2002, McCarthy was eager to grow and develop its programs right away. One of his early priorities was to start McCarthy Fellows in Sacramento, a program that was officially established in 2006. 
Without wasting time, McCarthy got in his car and drove up to the capitol with Patrick Murphy, former director of the McCarthy Center, and Art Agnos, former San Francisco mayor, at his side. When they arrived, McCarthy strode ahead of the group and walked straight in, pitching his idea of bringing USF student interns to the capitol to any interested listeners. 
"Everyone had time for Leo. It didn't matter if it was the president of the Senate or the speaker of the State Assembly — they could be heading to a meeting and they would simply stop and engage him because of the respect they had for him," Murphy said. 
Driven to ensure the program's success, McCarthy was eager to do anything for the students,  whether it was making phone calls directly to their homes or driving them to Sacramento throughout the summer. 
"You didn't see that kind of involvement every day, but that's how he saw his role. I think it speaks volumes about how committed he was to the program," Murphy said. 
Creating Tangible Impact
Today, as a result of McCarthy's integral leadership and guidance, the Sacramento program now allows students to spend 12 weeks in full-time internships with institutions that are directly involved with the California policy-making process.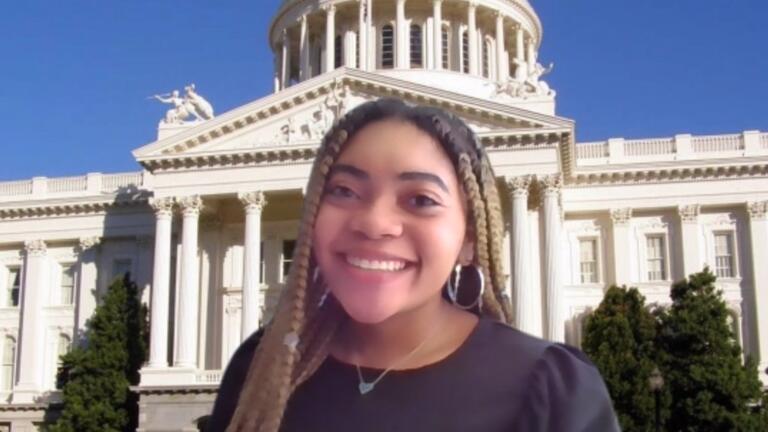 Metyia Phillips '23, one of this year's Sacramento fellows, plans to go to law school and pursue a career in public service and educational policy in the future. In alignment with these goals, the program has given her the chance to intern remotely with the California Department of Education. 
Over the past few weeks, Phillips has worked on a variety of projects, including the task to create a road map centered around SB-823, a Senate bill that's centered around juvenile justice realignment in California, and to work alongside the Council on Criminal Justice and Behavioral Health. 
"This has been really meaningful for me because you don't really get to do things like this as an undergraduate student," Metyia stated. "It's unheard of for students to work for the California Department of Education, to listen in on policy, to implement policy, and to write our own briefs. This has opened so many doors that I wouldn't have been able to open by myself."  
As Phillips nears the final weeks of her fellowship, she looks forward to beginning the USF in Washington, D.C. program in the fall and forging ahead in her journey as a promising public service leader. 
According to Newmark, these are the kind of substantive impacts that make the McCarthy Center such a valuable asset. "The program gives [students] the training they need to seriously follow through with a lifetime of service. This program is for real, and that's why I support it," he said. 
Derick Brown, senior director of the McCarthy Center, added, "It's an absolute honor to have supporters like Mr. Newmark who believe in the mission of the Leo T. McCarthy Center. Our current and incoming students will be prepared for a successful life in public service thanks to Mr. Newmark. This brings us much joy and inspiration."
To further enhance the experiences of McCarthy Fellows like Phillips, consider making a gift in support of the Leo T. McCarthy Center and Changing the World From Here: Campaign for the University of San Francisco.