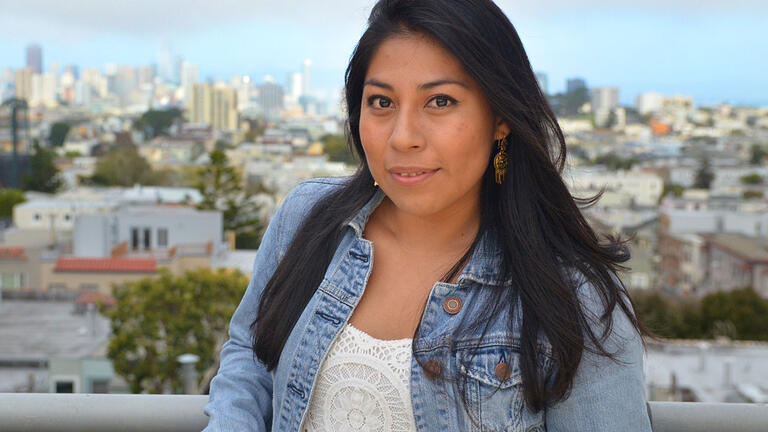 Tools for Resistance
The Power of Community to Advance Immigrant Rights
Being the daughter of immigrants inspired Mary Cruz '16 to become an advocate for the immigrant community. When she was choosing a major at USF, Politics seemed like the natural step to achieving her goal.
Through her professors' connections in the Bay Area, she quickly learned about the different organizations that lead immigration advocacy efforts. In her Immigration and Citizenship class, Professor Kathleen Coll invited staff from the local Mujeres Unidas y Activas (MUA) program to speak about the work they do to help organize and empower Latina immigrants, like improving access to translation services and prenatal care. These guest speakers gave Mary a better understanding of the ways she could serve immigrants in the Bay Area.
"Learning about the city we live in and its local politics/movements is so fundamental to approaching the field in a more humane and just way," she said.
Meeting professionals from local organizations was also a good opportunity to network and learn about job prospects. After she graduated, Mary used these connections and the knowledge she gained in the Politics program to land a job as a Legislative Assistant for the California Immigrant Policy Center, which frequently partners with MUA on advocacy efforts and state policy.
"Having background knowledge of MUA and the work they do within the San Francisco and immigrant community has served as an asset in my current position," she said.
Putting Passion to Practice
As a Legislative Assistant, Mary has the opportunity to engage in the lawmaking process and advocate for policies that benefit immigrants. She also gets to work on annual advocacy events like Immigrant Day at the State Capitol. This year, Mary arranged for California State Assembly Speaker Anthony Rendon and Assemblymember Marc Levine to speak at the event's morning rally; they each hit home California's commitment to standing with and fighting for immigrants.
"This event demonstrated the power of resiliency and unity, as well as the community's investment in advocating and advancing immigrant rights, despite the federal challenges California faces under the current administration," Mary said.
She said the Politics program was instrumental in helping her get to where she is now. In particular, she benefited from examining the political field through a social justice framework. This social justice focus helped her analyze how laws, policies, and movements can create social change. Through the stories shared by local guest speakers and courses like Loading..., Loading..., and Loading... Mary said she gained a deeper understanding of how the community and organizations can become tools for resistance.
"This approach prepared me for my position as a Legislative Assistant advocating for pro-immigrant policies," she said. "In the current era that we are in, these are invaluable tools to bring to an organization centered on social justice for vulnerable communities."
The social justice focus also encouraged her to engage in volunteer work on behalf of immigrants through USF's Esther Madríz Living-Learning Community and McCarthy Center. Mary said the opportunity to meet many immigrants and learn their stories was critical in shaping the way she approaches civic and community engagement at work.
Mary is grateful to her professors for giving her the tools to better understand and assist immigrants, investing in her professional development, and helping her become an advocate for the immigrant community like she always dreamed.