Giving
USF Receives Record-Breaking Gift of $17 Million for Scholarships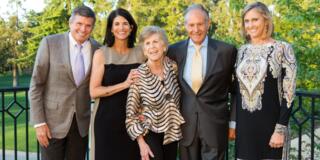 Encouraged by John A. and Susan Sobrato's past support of USF, three generations of the Sobrato family have committed $17 million for a new endowment to support scholarships for Bay Area students. The creation of the Sobrato Scholars Endowed Fund marks the largest gift in USF history and pushes USF toward the finish line of a $300 million fundraising campaign.
"This gift, which follows upon the great generosity of the Sobrato family that allowed for the expansion and renovation of the Sobrato Events Center, is emblematic of the philanthropy of this amazing Catholic family,'' said USF President Paul J. Fitzgerald, S.J. 
"This newest gift will open doors for hundreds of students to access an education that changes their lives so they can go out and change the world for the better. We are humbled by the love and support from these dear friends of USF." 
The Sobrato Scholars
The Sobrato Scholars program will impact generations of Dons for years to come. The gift will fund four-year scholarships for students from Cristo Rey high schools in the Bay Area, including Cristo Rey San José Jesuit High School, ICA Cristo Rey Academy in San Francisco, and/or Cristo Rey De La Salle East Bay High School in Oakland. If there are no applicants from these schools then the funds will be awarded to first-generation college students from the Bay Area.
The Sobrato family together and individually have set the gold standard for philanthropic generosity supporting worthwhile causes throughout the Bay Area and beyond," said Rev. Peter Pabst, S.J., Chancellor of Cristo Rey San José Jesuit High School, and former USF Board of Trustee member.
"Many Cristo Rey graduates are the first in their families to graduate from high school and most are first-generation college students," said Fr. Pabst. "To focus a gift of a Jesuit education that supports these students is a wise investment as it highlights young people who have received a solid college-prep education and have an enviable resume of places they worked and gained all kinds of life skills."
This new scholarship underpins USF's legacy of Jesuit educational values and the university's dedication to recruiting students from local schools that share those values. The $17 million will go into the USF endowment and be restricted for the Sobrato Scholars program. This endowment will generate revenue in perpetuity to pay for tuition relief scholarships. The funds from this record-setting gift will ease the burden of tuition and remove barriers to access higher education for future USF students for years to come.
The scholarship will be awarded to first-year undergraduate students and is renewable annually through the completion of their undergraduate degree. Incoming students who are interested in the scholarship are encouraged to contact the Office of Financial Aid.
A Family Impact
The cumulative philanthropic impact from the Sobrato family has left an indelible mark on the history of USF, and the combined total of their gifts at $32 million make them the largest donors in USF history. 
In 2015 John A. and Susan Sobrato made a transformative gift to fund an upgrade to what was then known as the War Memorial Gym. Now called the Sobrato Center, the new state-of-the-art athletics facility welcomes athletes and fans in support of current and future Dons. At the time of its funding, the gift toward the Sobrato Center was the largest in USF record-keeping.
The Sobrato family has regularly given to USF Athletics and are members of the President's Ambassadors giving society. They also contributed to the new Lone Mountain East Residence Hall, which houses sophomore students. 
"We have long held that education is the gateway to opportunity, said John A. Sobrato. "We hope this gift will make a great education accessible to more talented young people ready to contribute to society in their own unique and important ways."
Helping to Move the Needle
As USF looks toward the final stretch of a $300 million campaign to support scholarships, new programs, and facilities, this gift pushes the university closer to the finish line. Changing the World From Here: Campaign for the University of San Francisco formally concludes on May 31, 2022, and a community-wide celebration will take place in October 2022 in recognition of all that has been accomplished.
 Meanwhile, as interim vice-president of development Lindsey McClenahan describes, every gift still counts to impact the lives of USF students as they change the world from here.
"USF is grateful to the Sobratos for their role in creating access and inclusion for a Jesuit education in so many ways. We are excited to be so close to reaching our campaign goal and we look forward to alumni and friends joining us in celebration in the fall," said McClenahan. "This gift from the Sobratos helps us to think big and look ahead to what is possible for our students and our community in fundraising campaigns to come."
This gift was made as part of Changing the World from Here: Campaign for the University of San Francisco. Learn more about how to support student scholarships with a gift of any size.
Image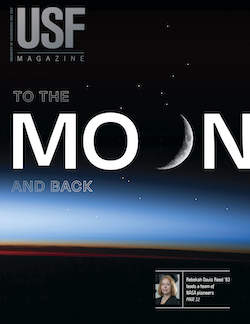 Featured in USF Magazine
This USF News story was published in USF Magazine, where you can find feature stories about university life, alumni Class Notes, and information about events at USF.