Giving
USF Receives Historic $15 Million Gift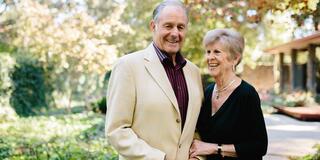 Silicon Valley philanthropists, real estate developer John A. Sobrato and his wife Susan, have made a historic $15 million commitment to the University of San Francisco, launching the transformation of the War Memorial Gymnasium.
The Sobratos' groundbreaking gift, the largest from individuals in the institution's history, will help create a state-of-the-art athletics facility and multi-use center honoring USF's rich tradition of athletic excellence and reflecting its Jesuit commitment to educating the whole person.
"We are deeply grateful to John and Sue for their remarkable generosity and philanthropic leadership," said Rev. Paul J. Fitzgerald, S.J., president of the university. "John and Sue are truly men and women for others. Their commitment to giving back, to Jesuit education, and to building community has set a new standard not just here at USF but far beyond."
Fr. Fitzgerald said the new Sobrato Center will play a central role in the life of the university, bringing together students, faculty, staff, alumni, friends and the San Francisco community for athletics and other major campus events. The 60-year-old facility has been the site of some of USF's most celebrated athletic accomplishments and its largest events, including the visit of Nobel Peace Prize winner Aung San Suu Kyi.
"Our athletic program is a reflection of USF's core values," said Athletics Director Scott Sidwell. "That's why our mission goes beyond winning at the highest levels of competition to include the role we play in the intellectual, physical, and moral development of our student athletes. This extraordinary gift will transform our facility into a stunning, modern center that showcases what USF athletes have contributed in competition and in their communities."
The Sobrato Center will include a grand, campus-facing entrance that welcomes students, alumni, and the San Francisco community to the university. Inside, the renovated facility will include expanded weight and training facilities, and premium seating and hospitality in a new John A. and Sue Sobrato Club Level.
"We believe that those of us who have had successful business careers have an obligation to give back," said Sobrato, whose family-owned firm is one of California's most successful real estate development companies. "We like to support Catholic education, whether it's at the elementary, high school, or university level. We really believe in supporting those institutions and USF is right up there on the top of the list."
Fr. Fitzgerald said the center will also showcase the role sports and USF have played in social change. USF has a pioneering history in sports. Long before it was routine to have African American and white athletes competing on the same team, the university fielded its first integrated team in 1930. Last year, ESPN released a documentary celebrating the legacy of the 1951 Dons, who finished the football season undefeated but were uninvited to the Orange Bowl when they refused to compete without their African-American players.  
The Sobrato Center is the core of a comprehensive athletics facilities master plan, which will enhance recruitment of elite-level athletes and support the athletics mission to excel in competition, in the classroom, and in the community.
The Sobratos, with their son and two daughters, have long been among Silicon Valley's most generous philanthropists and community builders. The family has for years promoted access to high-quality education for students at all levels. Their award-winning Sobrato Early Academic Language program, which supports language and literacy skills for Spanish-speaking English language learners, has expanded from a pilot program in four schools six years ago to 60 schools serving 40,000 pre-kindergarten through third grade students.
A graduate of Santa Clara University, John A. Sobrato is the founder of the Sobrato Organization. His privately held California commercial development firm literally built much of Silicon Valley, creating the headquarters for global technology companies like Apple and Netflix. The firm owns more than 75 commercial properties in Silicon Valley, 30 apartment communities along the West Coast and has developed more than 15 million square feet of office and R&D properties.
"As a real estate developer, I like to build things," Sobrato said. "When I saw War Memorial Gym, I asked myself: Why don't we modernize this building, bring in the natural light, and make it a much more inviting place not only for athletics but also for all campus events. It's going to be a great looking building when we're done."
This gift was made in support of Changing the World from Here: Campaign for the University of San Francisco.