Diversity
"We Have to Keep On"
Steph Curry and Clarence Jones call for peaceful protest against racism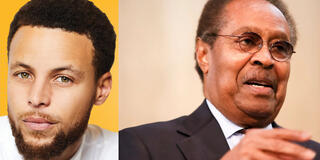 Six-time NBA All-Star Stephen Curry of the Golden State Warriors has some advice for USF students during this time of protest against racism and police brutality.
"The biggest thing is knowing how tangible this moment is," he said in a university discussion aired on Juneteenth, the holiday marking the emancipation of slaves in 1865.
"Embrace this opportunity to use whatever God has given you, whatever platform, to try to better the person next to you. There is no selfish ambition in any of this. It's all about making the world a better place."
Curry, who has pledged to support USF's Institute for Nonviolence and Social Justice with his wife, Ayesha Curry, joined Clarence Jones, director of the institute, for a discussion on the power of nonviolent protest over hate in the search for lasting solutions to anti-Black racism and brutality and white supremacy. The discussion was part of the the Silk Speaker Series at the University of San Francisco.
We Have to Continue
Jones, a friend, speechwriter, and lawyer to Dr. Martin Luther King Jr., told Curry it is clear to him that the efforts led by King during the civil rights movement in the 1960s were not enough. King was assassinated outside a motel in Memphis in 1968.
"We have to keep on," said Jones. "Now is not the time to give up."
The discussion was led by Jennifer Azzi, associate vice president of engagement at USF, former USF basketball coach, and member of the gold-medal-winning U.S. women's basketball team at the 1996 Olympics. She and Curry talked about how they took their children to Black Lives Matter protests in the Bay Area as a way to educate a new generation about peaceful protest.
Involving a new generation is important, Jones said, because they will need to continue to protest for freedoms that King and Jones called for in the 1960s.
"Dr. King said we can't be quiet until there is no more police brutality and killing," said Jones.
"And here we are today," he added. "It's clear to me we have to continue. Whatever achievements we thought we achieved, they were not enough."
We Want to See Change
Curry, who grew up in North Carolina, said he was shielded from racism because his father was an NBA player.
"But I was always reminded by my parents, aunts and uncles, and grandparents that this was their experience in rural Virginia. I've had countless family members get trapped in the judicial system with unfair sentences," he said. "I've heard their stories, and I still feel them today."
The Currys, through their family foundation — Eat. Learn. Play. — have pledged to match donations raised for the institute, up to $50,000, through June 30. They have also pledged an additional $25,000 to support the institute at USF.
"I think a lot of this is the sense of urgency in the moment to know this has been a culmination of 400 years of injustices," Curry said.
"Everyone can play their part to help change," he said. "That's why we're here today. We want to see change now."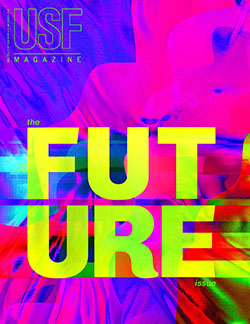 Featured in
USF Magazine
This USF News story was published in USF Magazine, where you can find feature stories about university life, alumni Class Notes, and information about events at USF.