Equipped to Lead and Succeed
This High Achiever Aims Higher Still
Community leader enrolls at USF to plug the few holes in her resume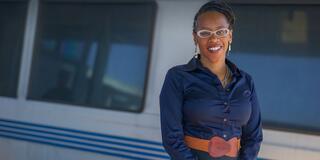 At the age of 19, she ran a nonprofit. At 26, she won a MacArthur Fellowship — before she went to college. She now leads a foundation that works to eliminate structural racism. So what's next for Lateefah Simon?
Earn a Master of Public Administration degree at USF.
"I've been teaching since I was a teenager," said Simon. "Now, at 43, I get to be a student and learn about models and frameworks and structures — all these things I never really knew about because I'm self-taught."
City Born and Raised
Simon grew up in the Western Addition just four blocks from USF. Each morning on her way to high school she rolled past the university on the 5 Fulton bus. "I dreamed of being on that campus," she said.
At Washington High School, Simon joined the debate team and "learned the power of stories," she said. "But I was also in and out of trouble. I was on juvenile probation. Then I got a job that changed my life."
At age 15, Simon became an outreach worker at the Young Women's Freedom Center. She worked with women in the Tenderloin and the Mission who were part of the underground sex and drug trades.
"I realized then that I love talking to people," she said. "I love organizing people. I love telling stories, going to the city council and talking about how there are all these girls in this city, out of sight and out of mind."
Four years later, Simon was named the center's executive director. Seven years after that, her work earned her the MacArthur "Genius" Fellowship.
From there, she created San Francisco's first reentry services division — helping former inmates to return to their communities — under the leadership of then-District Attorney Kamala Harris.
Along the way, Simon studied public policy at Mills College and social entrepreneurship at Stanford.
Then, in 2016 she was elected to the Bay Area Rapid Transit (BART) Board of Directors. Legally blind, she relies on BART for transportation.
Full Speed Ahead
Today, Simon is mother to two daughters, the president of the Akonadi Foundation in Oakland, and a full-time student in the MPA program, class of '22.
"The first day of class, we're going around and we're sharing who we are, and in that class we have a police lieutenant, we have an executive scheduler for the mayor, there's an all-star baseball pitcher, there's an African American woman who owns a beauty salon, there's a young woman who is an urban planner but wants to figure out how to finance affordable housing in California," she said.
"These classmates come from the four corners of the globe. They're all doing amazing things. The faculty, too. Dr. Riggs walks the talk. He's out there in the community doing the work and making real change."
Professor Billy Riggs, for his part, said this about Simon: "Lateefah brings to class two leadership traits that I've always found inspiring: confidence without attitude and the heart of a public servant. We're lucky to have her as a student."