Campus Life
New Chancellor Brings Fresh Hope to the Hilltop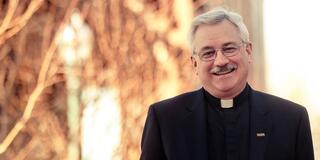 Rev. John Fitzgibbons, S.J., the new chancellor of USF, talks about work, faith, and his hopes for the university.
What is a chancellor?
It's a senior position in a Jesuit university. The chancellor works closely with the president, the cabinet, and the board of trustees. Usually, the chancellor is required to be a former president of a Jesuit university. I was president of Regis, the Jesuit university in Denver, from 2012 to 2021.
What do you do as chancellor at USF?
I serve on the president's leadership team, I'm the university's chief mission officer, and I'm the  principal ambassador of USF to alumni, benefactors, and neighbors. In my role as chief mission officer and as ambassador, I spread the word of our Jesuit Catholic mission to those who'd like to hear it, to those who haven't heard it, to those who might be skeptical about it, and to those who may have forgotten it. I work with many leaders on campus, including Erin Brigham of the Joan and Ralph Lane Center for Catholic Social Thought and the Ignatian Tradition, Angélica Quiñónez of University Ministry, and Fr. Donal Godfrey of the Jesuit community. They've done an amazing job of articulating and integrating our mission on campus and in our curricula. I'm out to spread our Jesuit Catholic mission further, to carry it into the city, the state, the West Coast, and the world that we serve. 
What is our Jesuit Catholic mission?
To serve others. To walk with the excluded. To make the world more just and humane. To be a leaven in society. To care for our common home.
That sounds like a secular mission, not a religious mission.
Yes and no. We live in a fairly secular culture but we seek to work lovingly in our culture as Jesuits have always done. The  Jesuits' four universal apostolic preferences — promote discernment, walk with the excluded, care for our common home, and journey with youth — do align with the United Nations' protocols for sustainability, diversity, human dignity, and freedom, but Jesuit values are still distinct. Our mission is to articulate the Catholic faith in the Jesuit manner. It is to live and work with others in a way that changes the world for the better. This is not to say that our students must be Catholic; we welcome students and faculty and staff of all faiths and all beliefs. Just the same, it's important to make clear that USF's values are Catholic values.
Are they Catholic enough? Some people say that USF is too liberal. Others say USF is not liberal enough.
USF is neither liberal nor conservative. It is Jesuit and Catholic. I know Jesuits who are strong Democrats, I know strong Republican Jesuits, I know strong Independent Jesuits. They disagree on many things when it comes to politics, but they agree on our Jesuit values. Our whole social-justice mission is rooted in the Catholic faith. It always has been.
What is your impression of USF?
I love USF. I'm glad to be back. I worked here for three years starting in 2006 when Fr. Privett [then the president of USF] named me an academic dean and vice president for administration. USF is on the cutting edge of Jesuit higher education. It is one of the most diverse places I have ever encountered. It's where culture and faith meet. It's a marvelous place for the Church to learn, and for secular society to learn. That's where I want to be — at the place where faith meets secular society.
What are your hopes for USF?
St. Paul said that hope is what we do not see but what we really trust and believe is happening. My hopes for USF are that I can help clarify and amplify who we are, what we stand for, and the good work we are doing. That's a Jesuit mission, and I'm a Jesuit missionary. Did you know that the word "Jesuit" started out as a slur? In the early days of the Jesuits, "Jesuits" was a term that critics, mostly members of other Catholic religious orders, used to mock us. "You call yourself the Society of Jesus! How arrogant of you. You're Jesuitical."